When you look at the magazines or the internet, you will see articles about tips and tricks, lotions and potions, recipes, drinks, vitamins, and what not to aid you fight aging or retain that look of youthfulness. People are always looking for new ways to make you look good and feel good and that's part of being a human. And as we get older, our skin starts to show signs of aging, and our collagen starts to slouch on us. But what is Collagen? Well, you can do a self-research on that area online to learn more about it. But what it is basically, is that Collagen helps smooths out our skin, it will look firmer, supple, younger, and we feel better about ourselves. And if you watched the Dr. Oz show, he talked about Anti-Aging guide and mentioned something about NeoCell. And NeoCell is something that I want to talk to you about today.
Many years ago, I was watching a documentary on the television about women and beauty. And some women in Asia would buy collagen and mix them with their food or drinks for the sake of beauty. Since then, I have always been curious about Collagen and what it can really do to our body and our skin.
Link to the clip:
http://www.doctoroz.com/episode/whole-body-anti-aging-guide-2014?video_id=3037116784001
A few months ago I received some complimentary products from NeoCell that I was really excited about. I was introduced to the NeoCell Beauty Bursts and the NeoCell Keratin Hair Volumizer. When I learned about the Keratin Hair Volumizer, I thought it would be something that I could really benefit because at that time I was experiencing hair shedding. Like, every time I combed my hair even with my fingers, I see tons of hair falling and it really started to bother me.
I recognize that some causes of hair thinning or hair loss are because of vitamin deficiency, stress, pregnancy, and other causes. Although I have a good diet, but I still need some supplement that can help me with my hair problem. A
nd as for the NeoCell Beauty Bursts, well, who doesn't want to retain that youthful glow? I mean, sure I am only going to be 30 this year, but hey, why not start early when you can? Plus, when I read that they are all-natural and delicious, I was in! And oh, they are Gluten-Free, too!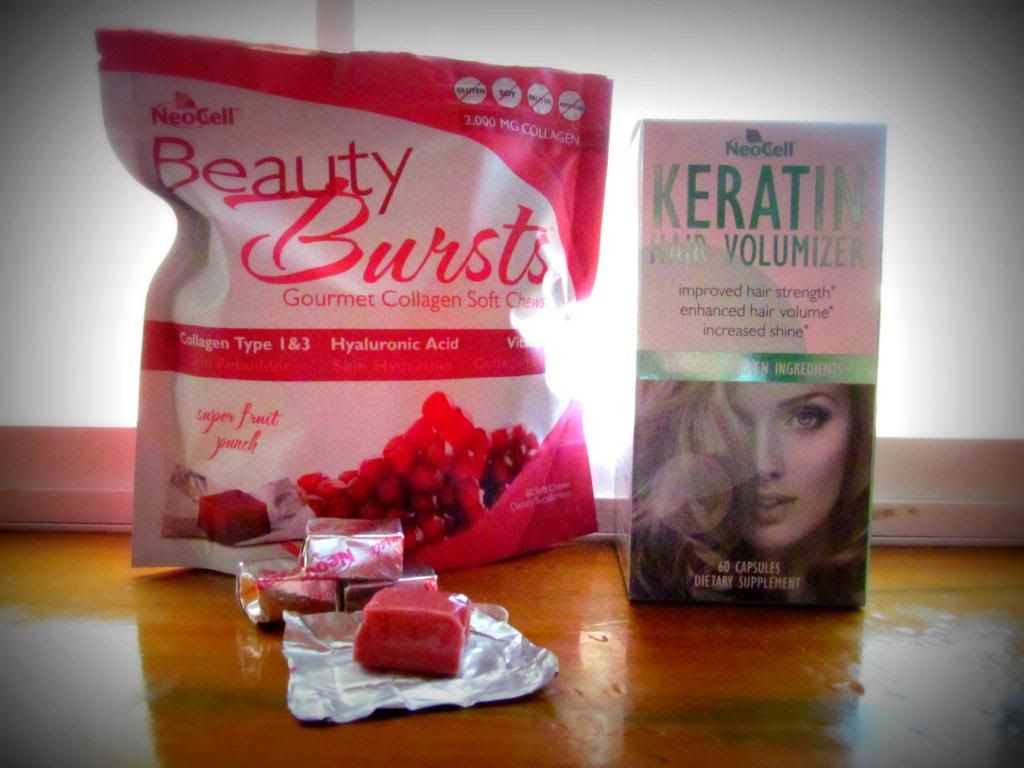 Here are the items I got:


Keratin Hair Volumizer
Keratin hair volumizer is an all-natural solution for strong, lustrous, and thick healthy hair that starts from the inside. Dry, brittle,thinning hair is associated with a lack of nutrients that are essential to strong and resilient hair. Keratin Hair Volumizer contains clinically proven ingredients to enhance hair strength and reduce normal hair loss.*
Key Ingredients:
Cynatine HNS Solubilized Keratin: The ability to convert natural keratin into a functional form that is bioavailable to the body is a recent advancement. Cynatine HNS® is solubilized enabling it to be both bioactive and bioavailable in the body, which allows it to bind with hair. Cynatine HNS® has been clinically proven to reduce hair loss from washing, improve hair strength and improve the brightness and luster of hair.*
Hydrolyzed Super Collagen: Hydrolyzed Super Collagen™ is a structural component of hair, skin and nail health. Super Collagen™ is a rich source of glycine, proline, alanine and hydroxyproline, which are the main constituents of collagen in the hair. Research suggests that collagen supplementation stimulates fibroblasts at the hair root, resulting in increased diameter of the hair shaft. NeoCell's pharmaceutical grade Super Collagen™ is enzymatically hydrolyzed, providing a collagen amino acid ratio with low molecular weight for maximum bioavailability.*
Amla Extract: Amla, or Indian Gooseberry, has been used for centuries in Ayurvedic medicine for its anti-aging properties. Amla provides high concentrations of Vitamin C and and has been revered for being a powerful antioxidant.*
Vitamin C: Vitamin C is an antioxidant that is an important part of optimal collagen formation.*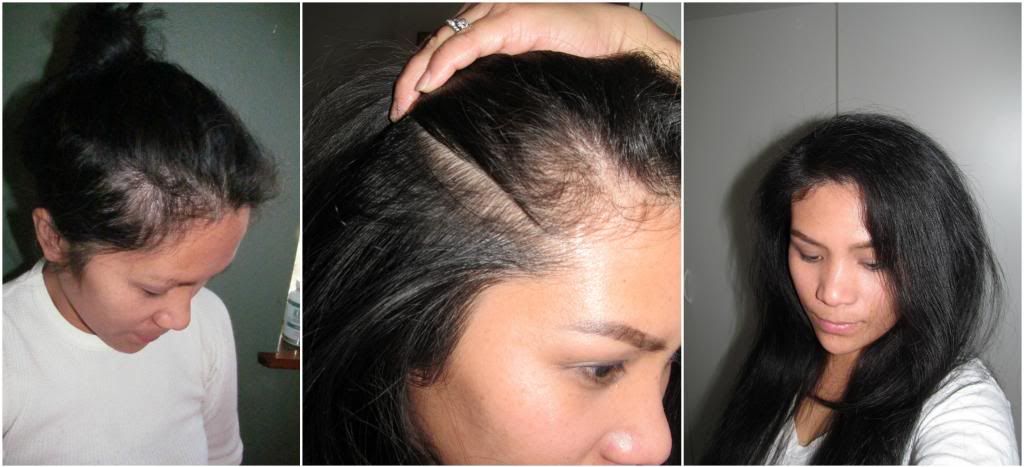 What Do I Think About The Product?
Prior to NeoCell, I have noticed my hair was thinning and shedding, and I have that balding spot on my forehead. Or I should say a receding hairline. You would think the guys are the only ones that experience that, but oh no, us women too! A few weeks after I had my babies, I experienced hair thinning, but my hair grew back a few months after. Then these past few months before knowing about NeoCell, my hair was just bad. I couldn't even put my hair up on a bun because the balding spot on my forehead was noticeable and it was bothersome.
I was online looking for something that would help me with my hair loss, and what a coincidence. An email showed up and asked if I would be willing to try their products. I jumped into the opportunity right away without any doubts and glad I did.
- Within about a month of taking the Keratin Hair Volumizer capsules, I noticed some new hair growth, especially on my forehead where the thinning part was. You can't really tell by my photos, but my hair seems to grow faster, shinier, and healthier looking. I was so excited to see new growth and less hair shedding when I am in the shower. It is amazing how every time I run my fingers through my hair, I see less and less hair fall. I kept telling my husband how excited I was to see less hair on the shower floor.
- I used to have thick hair, lots of hair, like so thick they would tease me for it. But as I am getting older, I have noticed my hair is not as thick as it used to be.
I am really excited to keep taking these products and see greater results. So far, so good and I am a happy customer.
- I haven't had any side effects since taking the capsules.
Beauty Bursts - Soft Chews - Fruit Punch
Feed Your Skin With Delectable Bursts of Nutrients!
2013- "Best of Natural Beauty" Better Nutrition Magazine
2013- "Best Beauty Supplement" Delicious Living Magazine
Collagen Type 1 & 3 For Firm, Smooth Skin & Strong Hair & Nails
Hyaluronic Acid For Skin Hydration & Renewal
Vitamin C: Collagen Enhancer
All Natural Formula Bursting With Delicious Flavor
Having beautiful and radiant skin has never been so easy- or so delicious. NeoCell Beauty Bursts deliver high absorption beauty nutrients in delectable, gourmet soft chews. Collagen Type 1 & 3 is the body's beauty protein & strengthens skin, hair & nails. Hyaluronic Acid is known as "Nature's Moisturizer" & hydrates the skin. Vitamin C is essential to boosting collagen in the skin. Together, these three beauty nutrients work together to build beautiful skin from the inside out.

Suggested Use: Take 2 to 4 chews daily. (I would take two in the morning, and two in the evening)
Does not Contain: Soy, wheat, lactose, palm oil, starch, yeast, or artificial flavor.
Other Ingredients: Rice syrup, dried cane syrup, natural flavors, sunflower lecithin, sunflower oil, citric acid, malic acid, fruit and vegetable juice for color, glycerin, citrus bioflavonoid.

What Do I Think Of The Product?
- I may not have that dramatic of a result like others have, since I am not to that point where I have lots of wrinkles, sagging chin, crow's feet and all that. But for the weeks that I have been taking the NeoCell Beauty Bursts, I have noticed some changes in my skin. My face looks more moisturized and hydrated. I mean, it looks a lot healthier, even without applying moisturizer on my skin.
- The Flavor: I was actually surprised at how tasty these are. It tastes like I am just eating candies, but also I can tell that there is something in it that I suppose what collagen would taste like if you eat it just by itself. But It is tasty, and chewy, and it dissolves quickly. I have to hide though every time I pop one open because my little girl thinks they are candies for her because they do smell good and that pink color attracts her. I love how it says they are made of All-Natural ingredients and that's a great thing about.
- All in all, I am satisfied with the product and yes, I will purchase these again the next time we travel to Casper, Wyoming. Because that is the closest place where we can buy them at the store, according to their store locator. I know my husband's interested in their Collagen product so he might just want to buy some for himself.
- Another reason why I like taking these rather than just some cream, is the fact that it is easy to take. It never washes off or gets messy when applying because you take it in. You open the wrapper, pop it in your mouth, you chew it, and it is in your system, which really works on the inside.
Where to Buy? You can use their

store locator

to find the store near you. And while you are there, checkout the list of retailers that carry NeoCell products. It is located on the left sidebar.
If you are interested of any of these products, you can visit their

website

at

http://www.neocell.com/
to find out more. Thank you,
NeoCell!
For more updates:
Like on

Facebook:
https://www.facebook.com/NeoCellCollagen
Follow on

Twitter:
https://twitter.com/NeoCellHealth
Follow on

Instagram:
http://instagram.com/neocell/