My kids were really excited when they saw new toys in the mail! What a surprise for them. Immediately, my two kids were ready to play with the new toys they got complimentary of
The Manhattan Toy Company
.
Aren't kids wonderful? I mean, they don't worry about huge responsibilities, but they only worry about sleep, food, school, toys and playtime. They are growing and learning about this big world and with the help of certain toys, it nourishes their creativity and imagination. I was very happy when The Manhattan Toy Company agreed to work with me on a product review because they have fun toys available online.
About Manhattan Toy — Imaginations at Play!
Play is discovery and exploration, and joy, and growth, and learning, and so much more. And for us play is serious work. So when we bring play to life, we do it with a commitment to the finest in craftsmanship and creativity. All of our products, from the newest concepts to our time-tested classics, are innovatively designed to inspire imaginative play and delight our consumers large and small.
Quality and Safety
Our unsurpassed quality standards ensure that our toys are both durable and safe. Prior to manufacture, each Manhattan Toy design is thoroughly tested to comply with the most rigorous international standards for children's products. Our quality assurance team continually reviews designs and procedures to ensure that products exceed both existing and new safety regulations.
We are committed to providing quality toys that enrich young lives and developing minds. Safety has always been a focus at Manhattan Toy. Our toys are designed, developed, and manufactured with every child's safety in mind. Manhattan Toy ensures that each of its products comply with federal toy safety standards of the US and Europe. Our products are manufactured to meet or exceed all applicable regulatory standards as well as voluntary safety standards. Our toys meet the requirements put forth by the American Society for Testing and Materials (ASTM) and the European Union (EN71), as well as additional safety tests when applicable. These requirements include checking the presence of lead in our toys. We further ensure testing integrity by using only third party, independent accredited toy testing laboratories.
Manhattan Toy will continue to make safety our priority when designing and manufacturing toys. All of our products are designed to meet or exceed the standards set forth by the U.S. Consumer Product Safety Commission (CPSC). For more information, please visit the Toy Industry Association website at ww.toy-tia.org or the American Society for Testing and Materials at www.ASTM.org.
Here are the toys that we got:

A Monster Truck For My Boy


Motorworks FSX Monster Truck 1.0
Details:
This extreme truck comes with spoiler, grill, custom car decals, and monster axles and tires built for any thrilling adventure. The truck body is made of European beech wood and smooth rolling wheels. The Monster Truck also has a convertible chassis allowing you to snap-on other MOTORWORKS accessories. Plus, its removable wheels, accessories and cab can interchange with other MOTORWORKS vehicles. Winner of a 2013 PREFERRED CHOICE AWARD Kids Wooden Toys category Winner of a Parents' Choice Silver Honor 2013
Age
3+
Size
4.75"L x 3.75"W x 2.5"H
Warning: Choking Hazard- Small Parts Not for Children Under 3 Years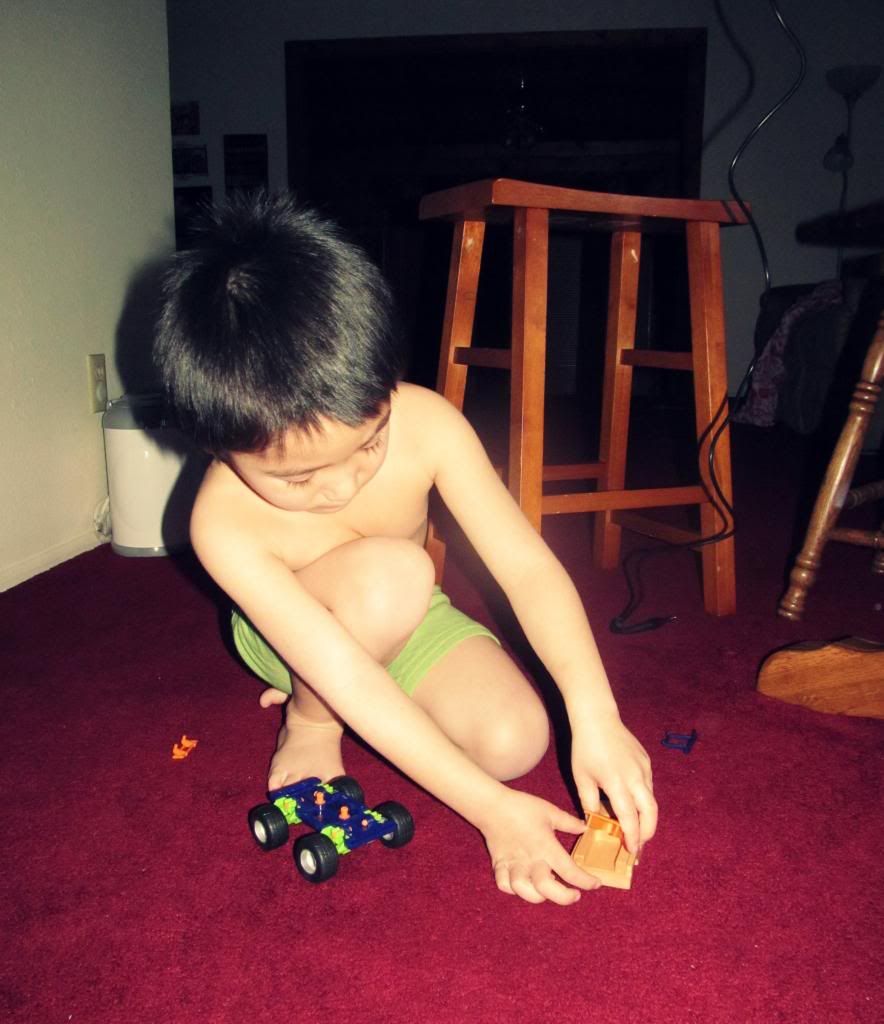 What Do We Think About The Toy?
- Just by watching my son playing with his new Monster Truck, I can tell he likes the fact that he can remove the parts of the truck easily and sets them back easily. Boys are boys and they are always curious about their toys. My little man loves to play as a little mechanic and love dismantling his toys. And like it says, the Motorworks toys are built for infinite possibilities. They are customizable wooden toys that kids can change up the look of their trucks when you buy the rest of the Motorworks accessories. It is a fun, safe, and easy toys for kids to play with.
Groovy Girls For My Girl
Groovy Girls Marissa
Price:
$15 USD
SPECIFICATIONS
Age

3+
Size

3"L x 2"W x 13"H
Groovy Girls Marissa brings new flare to the Groovy Girls collection with her blue and blonde highlights and her colorful personality. Her vibrant orange leggings match her bright orange hair ties, while her blue-green dress brings out the beautiful aqua color of her eyes.
Groovy Girls Maren
SPECIFICATIONS
Age

3+
Size

3"L x 2"W x 13"H
Groovy Girls Maren is the life of the party, her colorful dress always draws your attention and her peppy personality makes everybody smile. The purple and reddish orange colors in her dress match her multi-colored hair.
These two dolls also came in with another two beautiful dresses. Check out below.
Groovy Girls Fashions Purplerific Dress
Price:
$13 USD
Your Groovy Girls® will look like perfection in this brilliant purple dress. The polka dot patterned skirt and the lavender ruching on the bodice will make every girl feel like a princess. A pink rose and yellow sash beautifully accent the stylish handbag. A must have for any special occasion. Doll sold separately.
Groovy Girls Fashions Glamtastic Glitz
Price:
$13 USD
Dress up your favorite Groovy Girls in this stunningly glamorous gown! The Glamtastic Glitz set includes a beautiful floor length satin gown that comes with a handbag and a double sided shall. This glitzy outfit is sure to turn everyone's head!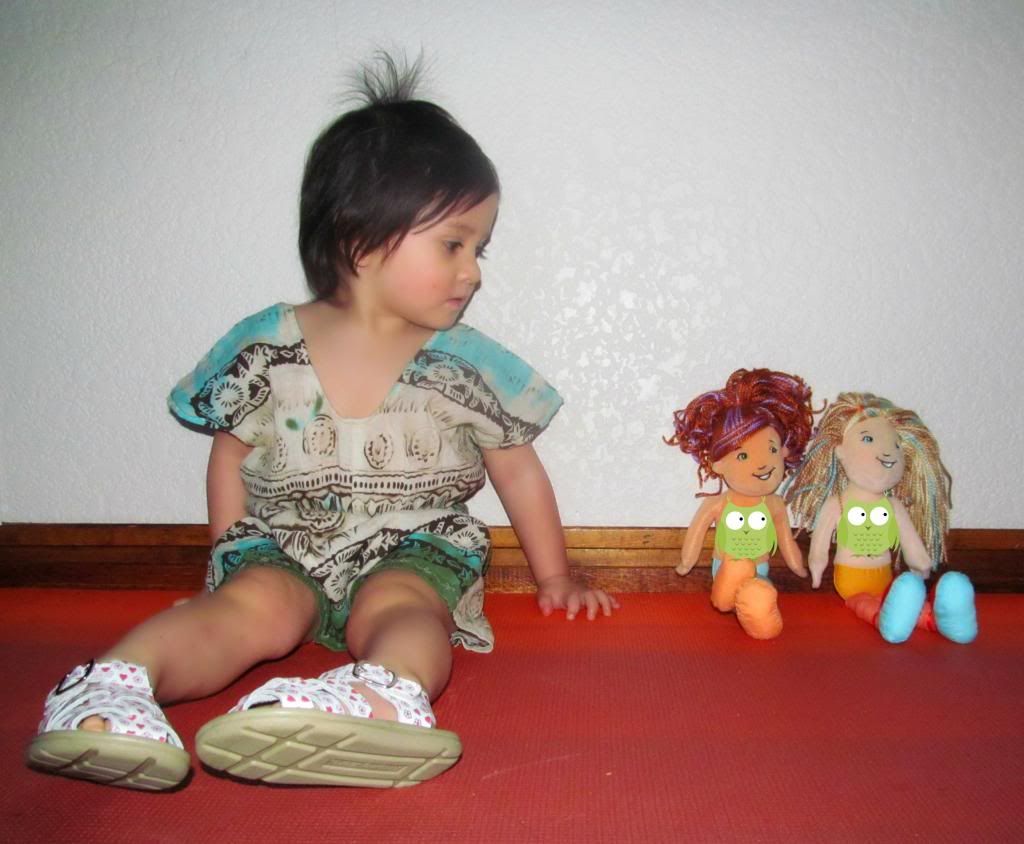 My little girl sitting beside her new little babies named Marissa and Maren. The new addition to the family. Looks like I am going to be busy making little dresses for these adorable little dollies. Just like my mom used to make dresses for the only barbie I had, and then some kid took it. It sure broke my heart and even up to now, I still wonder whatever happened to my barbie and her handmade clothes.
Anyway, my little girl loves sleeping with her little dollies at night. She's always asking me to change her dollies dress, so I am excited to make pajamas for them. By the time she is old enough to change the dollies clothes all by herself, she will really enjoy playing with the dolls and changing their outfits. And in case you are wondering, you can also buy other outfits and accessories for the dolls on their website to complete the set. How adorable! These Groovy Girls from Manhattan Toys will make perfect gifts for your little princess.
I like how they are soft and made of fabric, and they don't have cause any small choking-hazard things on all of their Groovy Girls dolls, so it is safe for little girls to play with.
No, it doesn't stand on its own or sits on its own, but my girl doesn't seem to mind it. I guess that also means I have to make beds and chairs for the dolls, which by the way you can purchase on their website as well.
I know they are just dolls, but it is so cute knowing that in every

Groovy Girls

dolls, they have their own personality.
I guess I pretty much covered up everything you need to know about these Manhattan Toys that we got. But if you want to know more, and want to check out the rest of their fun and safe toys, don't forget to visit their website at
http://www.manhattantoy.com/
.
Thank you,
Manhattan Toys!