Remember when I did two product reviews for the Love Cooking Company about the
Half and Half Pan
and the
Cool Bake Pan
? Well, just last month, Love Cooking Company launched two new products that are from their new Cookie Cuttables collection. This collection is a line of innovative cookie cutting grids that makes baking time easier than before. I happen to be given the chance to try out one of the two Cookie Cuttables and the one I got is the Easter.
With the Valentine Season over, and now the Easter Celebration is drawing near, I see all kinds of Easter decoration going on at the stores, online, or in people's houses. Of course, part of celebrating the Easter season is baking some Easter Cookies.
Mrs. Fields Cookie Cuttables Easter
Retail value for each cutter is
$9.99
Create adorable Easter-themed cookies with the Mrs. Fields Cookie Cuttables™ Easter! Simply roll out your cookie dough and press the cookie cutter grid on top. When you remove the grid, you'll have 10 Easter-themed cookies: Four (4) Easter eggs, three (3) Easter bunny faces and three (3) baby chicks. Just decorate and celebrate!
- The grids allow you to cut out several themed cookie shapes at one time. These grids reduce clutter in your kitchen drawers by eliminating the need for several individual cutters that take up lots of space, break and can get easily lost. Plus it saves you time by not having to make so many individual cuts.
- They will be available in-stores and online starting middle of February. Amazon.com will be selling these, Joann's Fabric Stores and Kitchen Collection will also be selling them among others.
Instructions for use:
1. Prepare your cookie dough according to recipe
2. Wash your cookie grid thoroughly before use. Grid is top rack dishwasher safe.
3. Roll out dough onto your counter top to at least the size of the cutter
4. Add a little flour to the top of the dough to help minimize stickiness
5. Place the cutter centered over the dough & press downward all the way and shimmy the cutter slightly back and forth to deepen the cut marks, which will make removal easier.
6. Slowly lift the cutter, pushing down on any shapes that may stick with your finger then place each shape onto your greased cookie sheet for baking.
(My 2-year old little Baker-in-the-making.)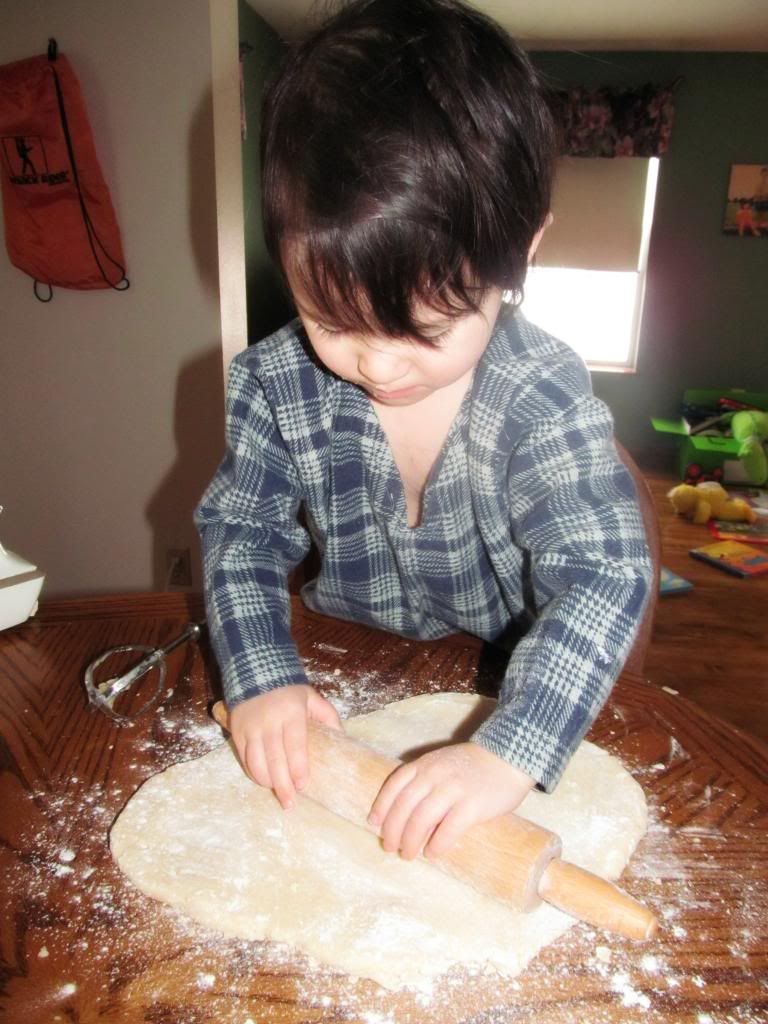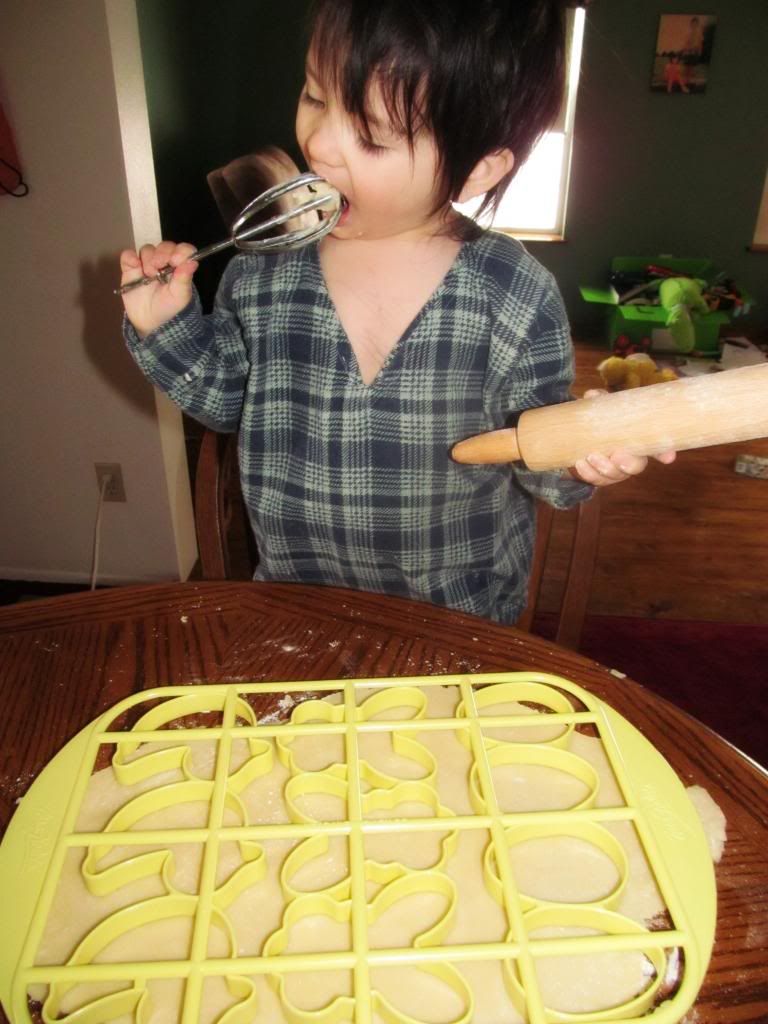 Before we could decorate these cut-out cookies with icing and sprinkles, my family couldn't wait to eat it. They didn't even give it time to cool off. And by the way, I baked these cookies using the Cool Bake pan that I got from Love Cooking Company. Love this pan!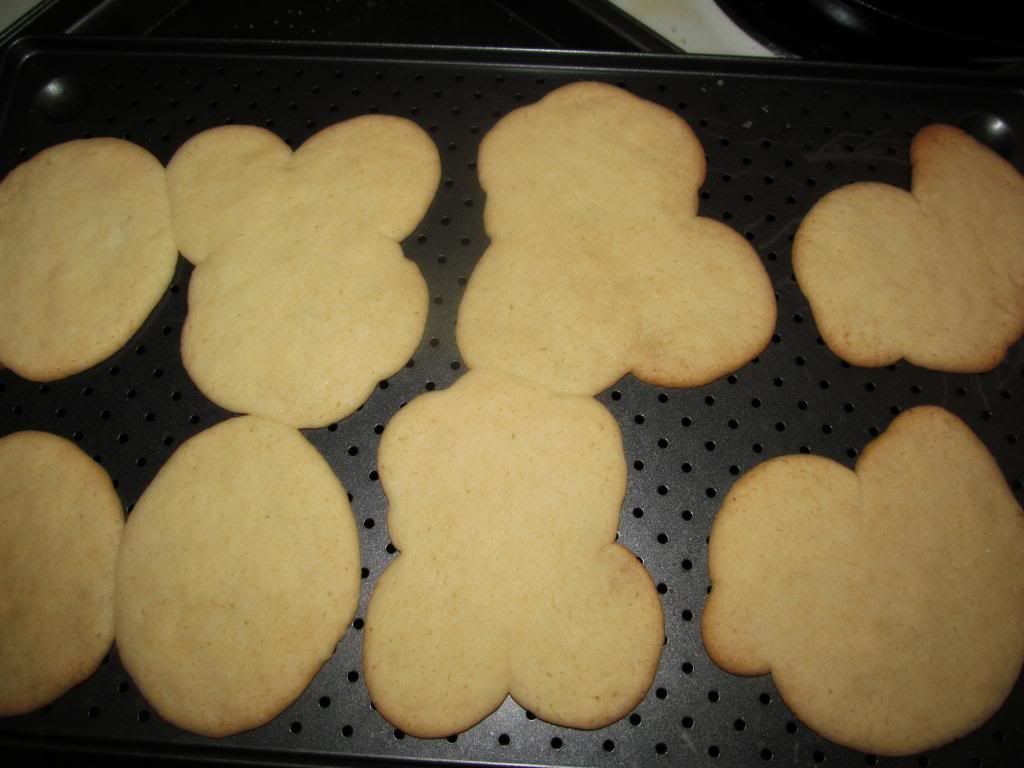 What Do We Think About The Product?
- It is no secret my kids love to bake with me and I love that. They are always willing to do whatever they can to contribute like rolling out the dough and cut-out shapes because they think it is fun. And for us to have a calm and safe baking experience, I have to have things that my kids are able to use and that they are safe. With this Cookie Cuttables Easter, I feel secure that my kids are safe enough when using this product (with my supervision) and that they won't cut their fingers.
- The material is quite sturdy and I know will last many baking sessions.
- This is so easy to use. Just like what the instruction says, you just shimmy it a little bit to make nice cut-out shapes. I love that I can make nine (9) shapes at the same time and I don't have to make many cuts. It saves you time.
- Easy to wash. I like to wash it right away after using to avoid the cooking dough from hardening. Top rack dishwasher safe, too.
- Easy storage as well because all of the cookie cutters is contained in one device. It doesn't take up a lot of space either. Less clutter in the kitchen.
- All in all, I am a happy mama and we are happy with the product. Thank you,
Love Cooking Company
! Don't forget to visit their
website at
http://www.lovecookingcompany.com/
.
Because Love Cooking Company knew you would want your own Cookie Cuttables, they are so generous that they want to giveaway one (1) Cookie Cuttables Easter to one (1) lucky Chetopian Family reader. All you have to do to enter are these few simple steps.
GIVEAWAY:
- First, Like Love Cooking Company on
Facebook.
And while you are there, please let them know Chetopian Family sent you and thank them for this lovely Giveaway. Then come back here and leave me a comment telling me you did so. Thank you!
- Follow Chetopian Family Facebook Fanpage.
-
Tell me in the comment below that you did all the entries above. Thanks!
That's it! Simple steps for a chance to win your very own Cookie Cuttables Easter. This will be very helpful for your Easter baking this coming Easter Season, which is just around the corner. This Giveaway is open to US only. Thank you and Good Luck, everyone! The winner will be announced next week, Monday. And will announce it here on the blog, Facebook, and Twitter.