What Is ECOMMFLASH?
ECOMMFLASH is a retailer of Earth-friendly goods designed to help households get the products
that they need hassle-free. It is an online store that lets people shop almost anything that
they need from kitchen and dining, gardening materials, cookware, toys, sports stuff and other
products that are all safe for the environment. ECOMMFLASH knows the importance of creating a
healthy environment, which is why they value the importance of keeping people in their optimum
health by reducing pollutants that can cause damages not only to surroundings, but also to the lives
of animals, plants and people.
ECOMMFLASH is an onLine retailer that aims to create the most Eco-Friendly store and goods for your home.
Ecommflash Wooden Utensils, Spatula Set, Spoons, Pancake and Spreader Knife Made from Eco-friendly Green Organic One Piece Ash, Alder, Birch, Juniper and Oak Solid Wood, Handle Decorated with Juniper Mosaic, Strong and Durable, Heat Resistant, None Scratch, Non-stick Pans, Not Used Any Toxic Lacquer and Glue, We Offer Quality Kitchen Products That Will Last a Lifetime
What Is The Company's MISSION?
At ECOMMFLASH, the mission is to inform you on what products you can buy to receive great results as well as saving the environment. One person can surely make a difference and passing
on this knowledge to others will help clean up the earth and stop pollution one household at a time. Not only will you be able to receive information on what kinds of products to buy with ECOMMFLASH, but also you'll be able to learn how to use these items in your house as well as maximizing use of these products to create a healthy lifestyle.
What Makes EcommFlash Products Different From Other Wooden Utensil Products?
- Ecommflash products do not contain any chemicals, toxic lacquer and glue that can harm a person's health. Easy to clean, wash them with warm soapy water and let them dry.
What's In The Mail?
New Product: 12 inches Eco-friendly Unique Spatula Pancake. Made in Estonia. Each of products is carved by hand, which means that every piece is unique.
- Handle Decorated with Juniper Mosaic. Juniper wood has a wonderful texture. Covered with natural linseed oil to protect the wood.
- Most users love the aroma and have found the item's craftsmanship second to none
- Easy to hold in the hand, will create a beautiful addition to the kitchen's decor. Good gift for you and your friends.
- Does not contain any chemicals, toxic lacquer and glue that can harm a person's health. Easy to clean, wash them with warm soapy water and let them dry.
The Spatula Pancake Ash Tree item is one that you should
think about adding to your kitchen in order to get a better
return on your investment. Spending hundreds of dollars
on products that you use in order to put meals on the able is likely something that you have done in the past.
The Spatula Pancake Ash Tree product is likely one of the items that you will get the most use out of.
It makes it easier for you to do everything from making eggs to sandwiches and even mashed potatoes without the need to spend your money on expensive tools. Doing something good for the environment does not have to be difficult or expensive. Instead, you can get rid of your old utensils and go with these great replacements.
- Just take a look at how awesome the design of the handle is. While I was browsing through all of the Ecommflash products, I fell in love with the Spatula. My kids enjoy making pancakes with me, and what a better kitchen tool to have in the kitchen for me and my kids to use. I love that it is not made of plastic nor metal. Plastic is just not safe to use and metal is good, but with kids helping me, it is best to use the wooden one. Because the handle of the wooden spatula doesn't heat up and safe for kids to use.
- Here is something I have learned though. I made a mistake of leaving the spatula in the pan while I was cooking some hamburgers and when I came back, the spatula warped. Oh dear! It is a good thing I managed to save it and flattened it back. Never again will I do that. Big mistake on my part. Make sure NOT to do the same thing I did.
- I have noticed that the Spatula has that wonderful natural aroma to it.
- Another wonderful thing I love about the Spatula is that it is versatile. It is not just for making pancakes, but it is also good for when you are cooking hamburger, eggs, a whole lot more.
********************


Alder Cooking & Tasting Spoon Set Review
Introduction
With proper cooking utensil, like the Alder Cooking & Tasting Spoon set,
the task of cooking becomes much easier and enjoyable. Also, the end result or the dish also ends up being much tastier! Although there is no dearth of kitchen utensils in the market, it is very difficult to find a high quality Eco-friendly spoon set made out of wood like the one from Alder. It is worthwhile to invest in such good quality Ecommflash wooden spoon set
because it would last a lifetime and offer great cooking experience at the same time.
Since the cooking and tasting wooden spoons in the set are heat-resistant therefore you won't feel the heat when you are stirring hot dishes with it, so you can do away with the pesky gloves. Thus, say goodbye to burns from metal utensils in the kitchen! Moreover, these are made of very durable wood, therefore they can survive multiple falls and rough handling. Even though the wood has the tendency to turn slightly darker as it ages, it is nothing to be concerned about because this is only natural and it does not affect the product's quality.
One of the top reasons why it makes sense to opt for the Alder Cooking & Tasting spoon set is because it does not taint the dishes with a queer taste or odor when used. Besides, this set is very beautiful to look at and they are great accompaniment for non-stick cooking pans and pots or the utensils that contain Teflon-coating as they do not scratch the delicate surface of these coatings. It can also be used liberally on glass bowls and surfaces and they do not get any scratches.
(Don't worry. My little girl is safely supervised by me. No one is harmed during this process.)
My Review:
- This Cooking and Tasting Spoon set is my little girl and I's favorite thing to use when cooking. I get to use the bigger one and my little girl gets to use the smaller one. Well, she actually claimed it as her own spoon and no one else can use it, but my girl. Every time I am in the kitchen cooking, she comes in, grabs a chair next to me, opens up the drawer and grabs her little tiny wooden spoon and starts cooking. It has become the most used wooden spoon in the kitchen and I am glad we got it. Of course wooden spoon can break when you are not careful, so I make sure to take good care of my utensils.
- I have pots and pans that can easily scratch up and the use of wooden spoon is a must. And these Ecommflash products are perfect to use.
********************
Ladle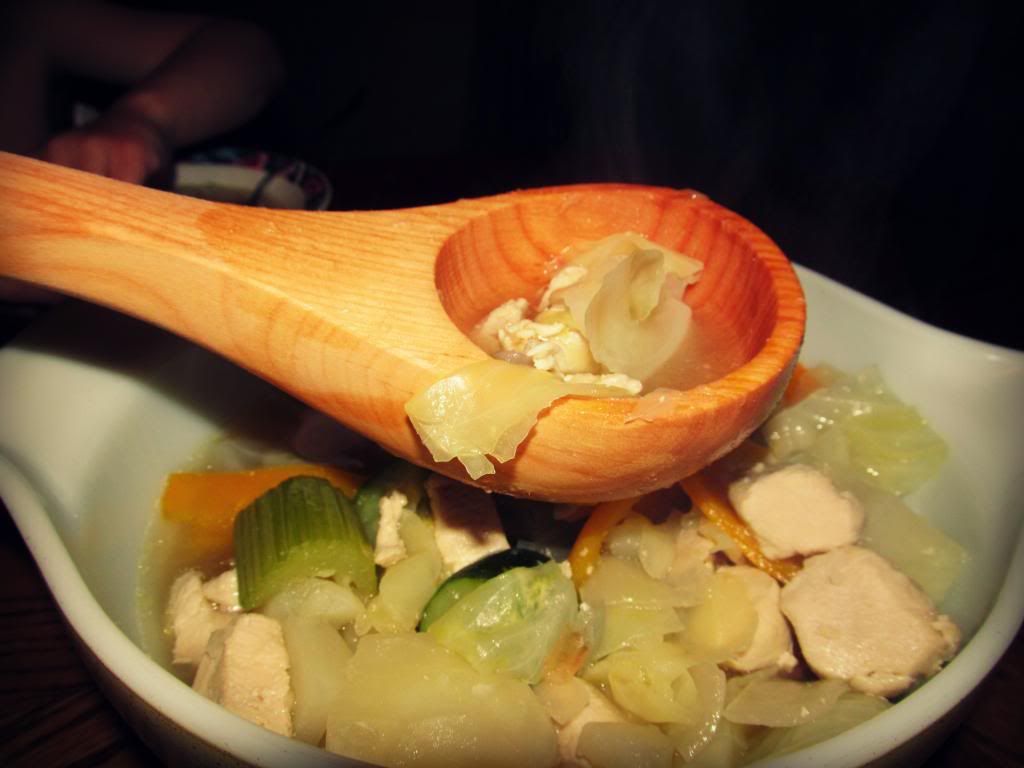 My Review:
- I love this ladle so much! Well, I love all the Ecommflash products I got. I love cooking soup, especially on a cold weather like today (freezing cold and snowy) and having this ladle is very handy. I do have a metal one, but having a wooden ladle makes more sense. Because metal is a heat conductor and the heat transfers to the handle, but with the wooden ladle it doesn't. And it is kind of fun using this wooden one. It makes me feel like back in the old days where they use a lot of wooden utensils.
- I don't just use this for cooking soup though, but I also use it for cooking my favorite hot sikwati (ground up Cacao Beans) drink.
Conclusion:
- All in all, we are very happy with the products that we got from Ecommflash. It will be one of those things that will get many uses in the kitchen. I don't use plastic utensils in my kitchen anymore, I got rid of them a long time ago, and having new sets of wooden utensils in my kitchen is wonderful.
- They are easy to clean.
- I love that it doesn't have any harmful chemicals or with lacquer and glue that can be very harmful to our bodies.
- One thing to know about wooden utensils though, is that with wood aging, it darkens up. But that's normal and nothing to worry about. It doesn't affect the taste of food and it still works great.
If This Was My Money, Was It Worth The Buy?
- Absolutely!!! Great investment, better for you, and better for the environment. I would recommend it. Thank you, Ecommflash!
Don't forget to check out the website today at
http://ecommflash.com/
. These products are available at
Amazon.com
, if you are interested.
For more update:
Like Ecommflash on Facebook:
https://www.facebook.com/ecommflash
Follow on Twitter:
https://twitter.com/Ecommflash