Hey, everyone! Today's the first day of summer and it is hot and humid in Kansas. We are kind of missing the Wyoming weather already. And it is during this time of year that we start missing the mountains, too. I hope everyone's having a great time and don't forget to protect your skin and drink plenty of water. Sunscreen and Water is a must this summer, right? Right!
Anyway, I am not really talking about the weather and mountains, but I am talking about a beautiful dress that I got from eShakti for free in exchange for an honest review. Do you guys remember when I wrote something about

dreaming of pretty frocks from eShakti

? Well, at that time I was really wanting this Cutout Denim Chambray
Dress for a review, but they were out (bummer) so I picked out this customized
Stripe Poplin Dress in Black and White
instead.
I love my new dress and it is something that can transition to spring, summer, fall and winter type of dress. You got to love a piece of clothing that is versatile. The style and the cut of the dress fit just right on me, hence it is customized. I know it is a bit scary when you order a dress online because sometimes you would end up with a piece of clothing that is either way too big or way too tight. But like I said on my previous post, eShakti i
s an online store where you can customize your dress to your height, size and style that you require. To further learn more about eShakti, below is a little introduction.
About eShakti
A fresh concept in fashion - customization
eShakti

believes that all women have the right to wear affordable fashion that is made for them and makes them look their absolute best.
Our Story:

eShakti began as a small website offering basic cottons and modestly embellished pieces. As we grew, we were tasked with providing design and fit solutions to meet our customers' needs. Today, we are an international fashion design company making custom clothing. Offering both style and fit customization for women size 0 through 36 is the heart of our business.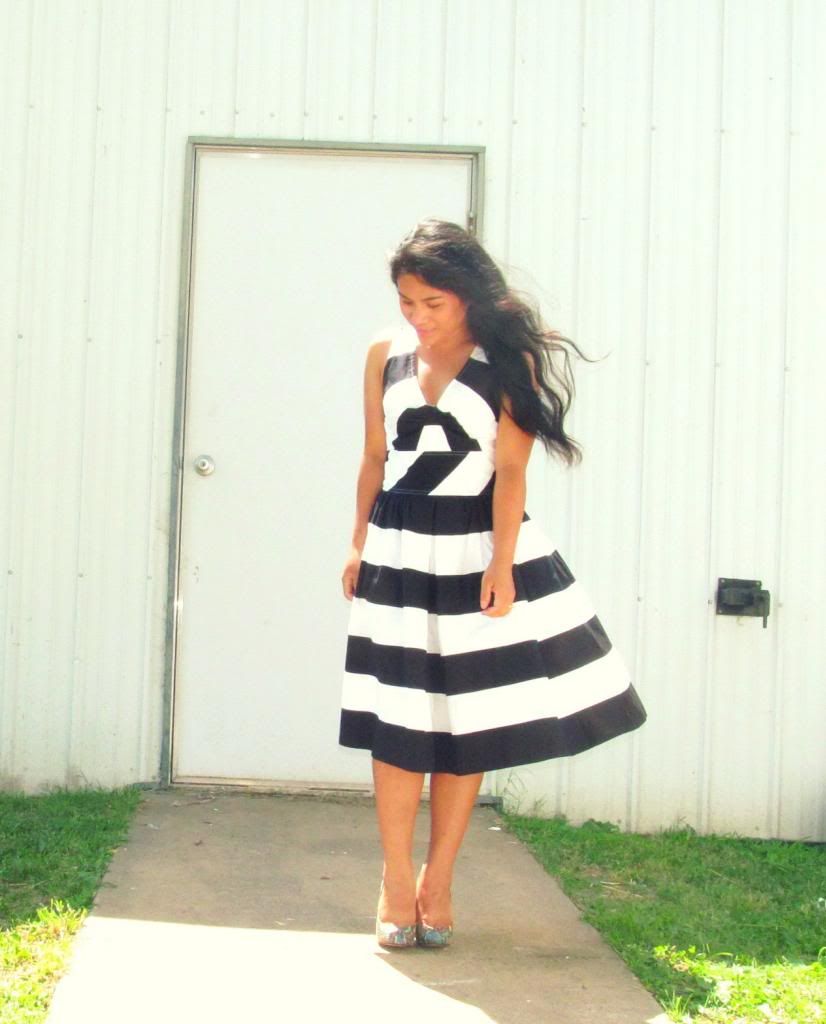 If this was my money spent on purchasing the dress, was it worth it? It would be money well spent!
The dress is well made and comfortable to wear. It slips on overhead and with a side zipper closure, and with two pockets. I love me some pockets on the dress. I love that sexy V-shape neck, which as they say is slimming and elongates your neck. And you can't go wrong with the classic Black and White combo.
If you are shopping for summer dresses, don't forget to check out eShakti, because it is a great place to shop if you want to order customized dresses. All in all, my experience with eShakti is wonderful and I am very thankful for this opportunity. To check out the rest of their collection, check out their website at

http://www.eshakti.com/default.aspx

. Thank you, eShakti!
For more update:
LIKE eShakti on Facebook:
https://www.facebook.com/eshakti
https://twitter.com/eshakti
http://www.pinterest.com/eshakti/
http://instagram.com/eshakti