Hi, Everyone!!!! It's been a while since I have been active on my blog and I really miss you all. I hope you guys are still out there visiting my blog and I thank you for that. It has been quite of a busy time for us, but I want to stop by here to share with you a new product that I received for a product review. Remember when I hosted a Modkini Giveaway? Well, I am super excited to share with you this Modkini product that I received. And to start off my review, let's get to know a little bit about what makes Modkini special.
And oh, Happy Father's Day to my dear husband Tim, to my Papa in the Philippines, and to all the wonderful dads all over the world. Today is your day!
What is A Modkini?
- Modkini is a Newly Invented Swimwear Attachment used with a Bikini to Create a Tankini
- Modkini allows you to take advantage of the many cute styles, colors and better support of a bikini while getting the additional coverage you want.
- Modkini's patent pending method of attachment makes the transition from the Modkini to your bikini top look natural; giving you confidence in the way you look anytime you're in a swimsuit!
- The Modkini easily transitions from one bikini top to the next, giving you the flexibility to buy more swimsuits for less than you would spend on a single tankini!
Flattering - Transferable - Custom Fit - Cost Less - Multiple Styles - Options
Modify your Bikini for:
-A more Custom fit. Find the best supportive Bikini and Pair it with a Modkini to create a Tankini
-More Coverage. Flattering. Different size up top than in the middle
-Bikinis have more style options, different fits and different Patterns. A Modkini allows you to take advantage of nearly all of them while still providing the coverage of a Tankini.
-Bikini tops allow you to accentuate your "Assets" considerably better than a Tankini or Onepiece. Just add the Modkini to get the coverage you want
-Transfers from one Bikini to another. Not permanently attached to Bikini. Use your Bikini for some events. Add the ModKini for others.
-Cost effective. Bikinis can be found cheaper.
Which swimsuit issue do you have?
1. Having trouble finding a flattering fitted tankini?
2. Don't want to spend a lot of money for just one swimsuit?
3. Find yourself adjusting "the girls" because they are either too big or too small in your current swimsuits ?
4. Frustrated with the limiting styles and colors of tankinis?
5. Disappointed in your cover up options?
What's In The Mail?
Modkini Basic-Black-Small
Price: $25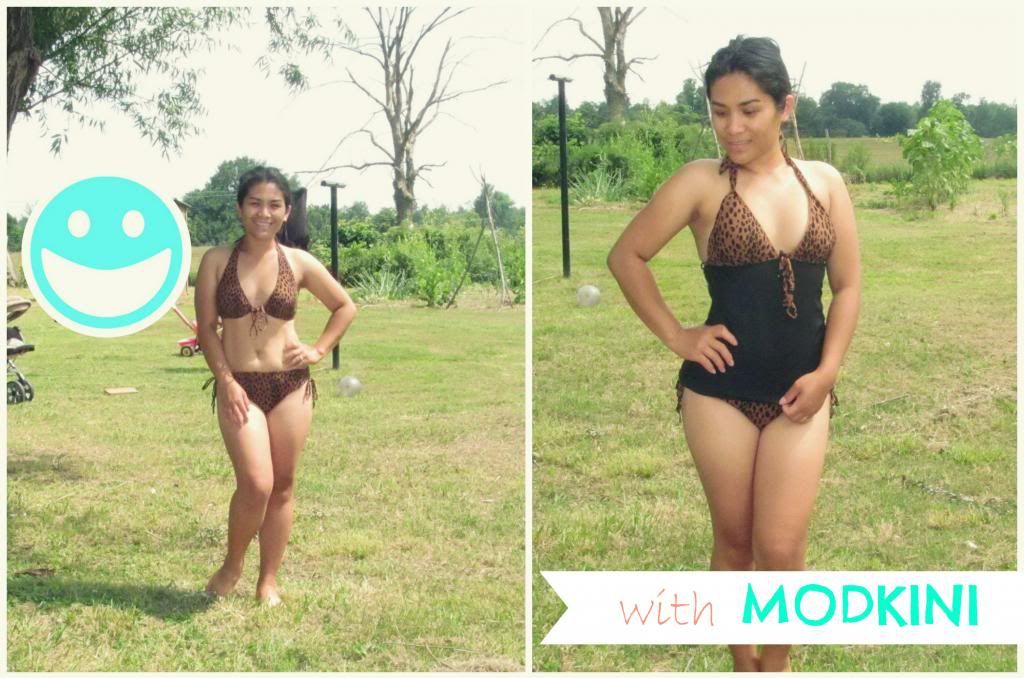 My Review:
* What Do I Like About Modkini?
- It is easy to assemble.
At first, I thought the Modkini wasn't going to work on one of my tops that has a wider strap. But thank goodness, the rings that the straps go through is stretchable.
- It is comfortable, stretchy, flexible, and well made. It feels secure when wearing it. The material is nothing too thick or too thin, but it is just right.
- I love how you are able to transition your bikini into a tankini without having to purchase one. Buying just one tankini can be pricey, then you only have one. Plus, with tankini, you don't really get that great support, especially for women that need the support. With the use of Modkini, you can use your already existing bikini and transform it into a tankini in an instant. That's amazing!
- The fit of the Modkini on me is more of a relax fit. I guess I should have ordered the Xsmall for a more fitted size. But this one still works for me. It will surely get a lot of use this summer on our vacation. Make sure to check the proper sizing when you order. It really is just a simple swimwear attachment that is affordable to buy and it works well.
- It is that time of the year again for swimwear, so make sure to visit Modkini's website today at http://www.modkini.com/ to learn more. And while you are there, make sure to check the video as well on how to properly attach the Modkini. It will show you how easy it is to assemble. Not a sweat! Thank you very much, Modkini!
- And by the way, Modkini is Made In The USA. Yaye! I am all about supporting American made products.
* What Am I Not So Crazy About Modkini?
- Well, it is not really a negative comment, but I just wish that they would be available in different colors someday. Although I understand that black goes with whatever color of a bikini you already have.
For more update:
LIKE Modkini on Facebook:
https://www.facebook.com/modkiniswimwear.modkini
https://twitter.com/ModkiniSwimwear
http://www.pinterest.com/modkiniswimwear/
http://instagram.com/modkiniswimwear
https://plus.google.com/101370911673558473696