Hey, everyone! Today's review is all about my new set of undies from Splendies. For some of you, you may have already heard and seen my other reviews of Splendies on this blog, but for those who are new, let me have a little company introduction.
What Is Splendies?
Simple, Easy, and Amazing!
Splendies is the easiest way to receive a surprise package of quality undies delivered to your door every month. Just choose your size and we'll do the rest. You'll receive your first shipment within days of your order. Change your size any time and cancel anytime as well. And as always with your Splendies order: FREE SHIPPING.
For Splendies Subscription, there are three easy ways:
- Received Undies In The Mail
How It Works?
Cost: USD $12.00/month, free shipping
Each month you will receive quality undies delivered discreetly to your door. You'll receive three (3) pairs of underwear every month for as long as you would like in terrific styles like boy shorts, briefs, thongs, lace or cotton, and each month offers a new surprise. Splendies offers a variety of styles and colors.
- Your first order ships within your first week and then at the end of each month that you've subscribed.
- Cancel anytime or change sizes at anytime.
- Always FREE SHIPPING with your Splendies subscription.
Benefits Of A Splendies Subscription
Convenience: No more driving to the mall, no more wasting time in lines, get great undies delivered to your door.
Discovery: Try out new brands, discover styles that you never knew you loved.
Fun: It's a total surprise and with dozens of brands, styles, and colors, no 2 packages are the same. You won't know what you'll receive, just that it's something you'll like.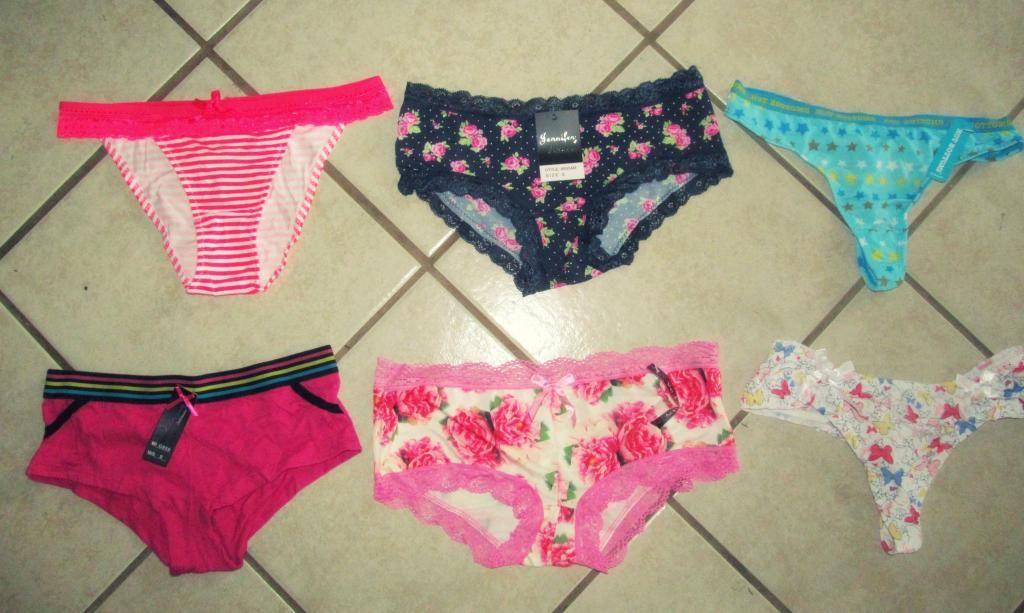 First Set:
- I like the bright neon color and the lace waistband. The cute little bow on the front also adds a sexy detail to the underwear. And who doesn't like stripes?
- A Navy blue lace underwear with flowers and polka dots? Why, yes for sure! I love, love, love this underwear. It is amazingly soft and comfortable to wear. And not to mention sexy!
- A Starry Starry blue underwear that is so fun to wear. That is if you like/love wearing a thong. The material is nothing too thick nor too thin, just right. It has a good stretch too. I actually like the color on this one, which I wish it would have come in a boy short or brief style. I am not too crazy about this one.
- A fuchsia cotton underwear with stripe-y waistband is also another comfortable to wear. I am always going to love this style of underwear because it feels secure. You know what I mean?
- This is another one of my favorites in this collection because of the lace detail and the flowers. So feminine and sexy, and that little bow on the front adds another touch. Just like the other navy blue lace underwear, this one is soft and comfortable to wear. The lace is nothing stiff and not itchy, which I love. They should include more of these types of underwear in their collection in different colors and prints. I would love to see more polka dots, stripes, and something nautical. Don't you think? Love it!
3. Butterfly Underwear
(I made up the name because it doesn't have a tag)
- I have got to be honest, I love this one. I know! I mean, I am not big on wearing a thong, but it doesn't I don't wear it. At first I wasn't so crazy about this when I saw it, but my opinion changed when I put it on. It is sexy and comfortable! I know that thongs can be so uncomfortable, especially on the back part, but this one is comfy. And really, the style is sexy. I love those two white bows on the side, which adds another feminine touch. The material and the elastic is soft. Between the two thongs (Starry Starry Blue and the Butterfly), I prefer this Butterfly printed underwear. And they should make more thongs in this style.
And if you ask me which of the six are my two favorites? Well, it would be the two lace underwear. It is soft and comfortable to wear. And not to mention how sexy the design is. And as usual, I am not crazy about the two thongs.
I love how bright and colorful all the undies are, which makes it more fun and festive. How about you, do you have any favorites out of all six?
Like Splendies on Facebook:
https://www.facebook.com/Splendies


Follow on Twitter:
https://twitter.com/splendies
Take note: Splendies packages typically contain a pair of thongs. If you do not want to receive one, you have the option to do so. And, if you are a fiercely real woman, don't fret because Volupties, the Splendies curvy sister store has the size for you. Go check it out!