I may not know anything about the movie Transformers or the new movie cast, and probably won't get to see the movie at all, but I know my son sure enjoys dressing up in his new costume. Something that he has enjoyed recently is to play dress up as one of the Transformer characters and it is a costume that we received for free in exchange for an honest review. For my little man I ordered the Transformers Optimus Prime Classic Muscle costume and he couldn't be anymore excited when he saw the costume. W
e got the c
ostume from CostumeSupercenter.com. They have a wide selection of costumes to choose from and not just
Transformers Costumes
for the boys. They have everything for men, women, girls, and boys, teens, infant & toddlers, for your pets, etc. It is sure fun browsing through
What's in The Mail?
Transformers Optimus Prime Classic Muscle
Boy's Costume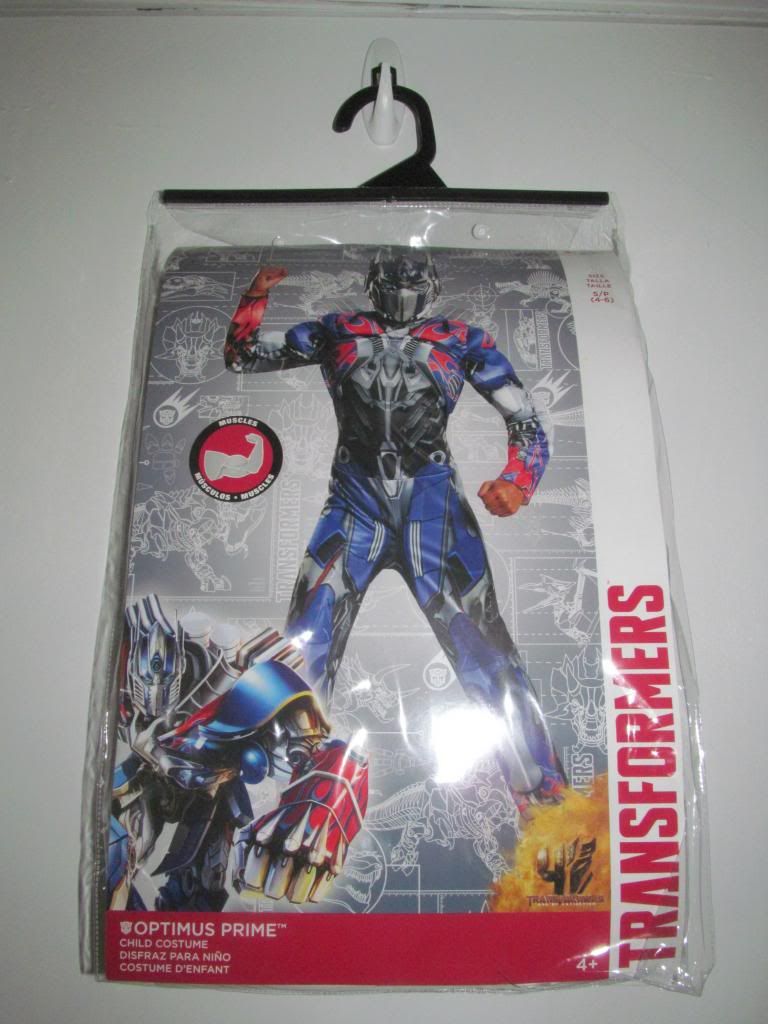 Sizes: Size Small ( fits 4-6), Medium (fits 7-8)
Includes jumpsuit with muscle torso and arms, and character mask
This is an offically licensed item.
Transformers Optimus Prime Classic Muscle Boy's Costume
When you're the leader of the Autobots you have to look intimidating. Give Megatron second thoughts about attacking planet Earth when you put on this Boy's Transformers Bumblebee Classic Muscle Costume! The full-body suit is printed with all of Optimus's red, white, and blue armor, making it look like you're made of metal plates, cables, and wheels. A hidden zipper will make it easy to transform from man to machine. Plush muscle pads are sewn into the chest and arms to give you a little extra power, and small spoilers are sewn into the back of the suit to give you a cool edge. Pop on the included character mask and you'll be ready to take down the Decepticons! Don't forget a pair of Optimus Prime gloves and black shoes, both sold here.
Additional Information
Product Number: DI73515
Material: Shell 100% Polyester. Lining 100% Polyester. Filling 100% Polyester. Foam Polyurethane.
Care Instructions: Hand Wash Cold. Do Not Bleach. Line Dry. Cool Iron If Needed. Do Not Dry Clean.
Air Shippable: Yes
Return Eligible: No
Oversized: No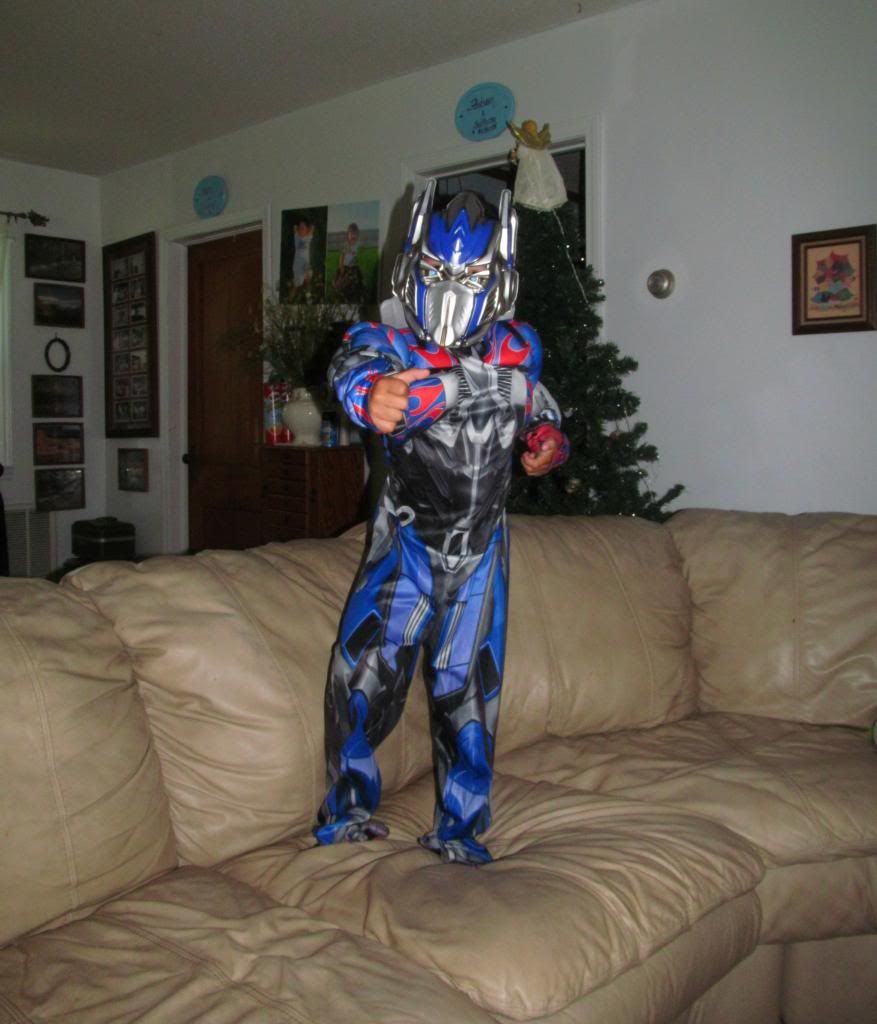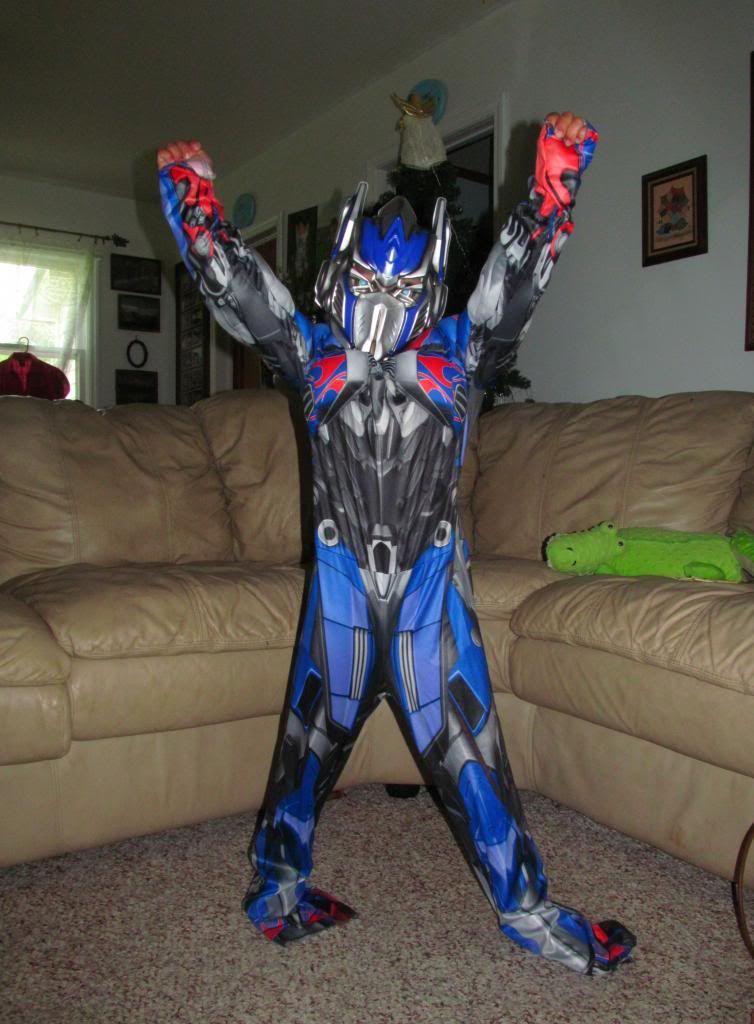 Our Review:
- You can tell he loves this costume so much because he didn't care if it was hot and humid that day just as long as he has it on. He was riding his bike, climbing trees, running around the yard with his Transformers costume on and he would not even take it off at all. He is very excited to show it off to his best buddy when we go back to Wyoming. Him and his friend both love to play dress up and now that he has a new costume, he is excited to share it with his friend. He loves the muscle part of the costume, by the way. He said it makes him strong and a big boy now with all the muscles. So cute!
- The costume's easy to put on and take off. Yes, it is a bit longer on my kid, but that is okay. When he puts on his shoes, it's fine. It is actually nice that it is not too tight on my kid or else he would not wear it. It is best to have a little bit of room so my kid is free to move around and not being constricted when wearing. It is easy to put on with Velcro closure on the back. The only thing that kept bugging him was the top part of the Velcro that keeps coming off.
- The mask is also easy to put on with an elastic. Even his little sister wants to wear the mask because she thinks it is awesome!
- If you ask about the packaging, it was neatly packed. I didn't have a hard time opening the packaging at all.
- All in all, we are very happy with the quality of the costume, which is not too thin and not cheaply made. If it was our money spent, it would be worth the buy. It can withstand several play dates with a very happy boy wearing it. The costume does not come with the gloves and shoes so you have to buy that separately along with the other accessories. Thank you so much, Costume SuperCenter!