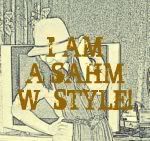 My SAHM Style Friday.
I bought this
two-pocket high-waisted vintage skirt
from a rummage sale a year ago and I am in love with it. Originally, I was going to sell it because at that time I was pregnant and I said this thing will never fit me even after giving birth, but I kept it anyway. After giving birth, working out and doing food portion control, I tried on this skirt again and alas it fits me! I know! I was so excited because I love, love, love this skirt. Eck! I am so giddy thinking about it that the skirt actually fits me now and it's so comfortable to wear, perfect for spring and summer. The skirt has this Yacht themed prints on it and it is just too cute! It's a keeper!
My attempt on doing the fish tail braid on my hair. I think I it's fine.
Vintage hat: $5
Blouse: Free pile (altered. it was huge)
Vintage Skirt: $1 a bag
Shoes: Target
These shoes may not look comfy, but yes they are comfortable. I bought it at Target three years ago and this was my first purchase of shoes that are not black or brown. I tend to gravitate towards black or brown color whenever I buy shoes. I have got to get out of my comfort zone once in a while.
Vintage
Coat: $1 a bag (altered. It was really long.)
I hated doing something to this coat, but it was just too long for my very short (4'9") height. Yes, that short! Now you know. I didn't even make it to at least 5'. LOL!
I don't like clothes that are padded on the shoulders as I think it doesn't look good on me, but for some reason I like it on this coat. That salmon-y pastel color is perfect for spring so as the materials.
Ops! It's a windy day today.
Someone asked me the other day about what thrift stores I go to so here is my answer to that.
Most of the things that I thrift-ed or I should say rummaged are from the rummage sale here in our small town. One of the churches here in town has a rummage sale that happens about five times a year or so and it is a two-day sale wherein the second day they usually have this $1 a bag deal going on because the idea is they want to get rid of everything so might as well sell it pretty cheaply. That's the time I get tons of things that are still in good condition and some of them still has tags on it. I do go on the first day where the clothes are on sale for like a dollar or a dollar fifty, which is pretty good. I mean they have the best deal in town and I am really excited because they are going to have a first rummage sale of the year this next Friday, 2nd of March. I don't even care if I have to tote around two kids with me because I just want to go and see what I can find. I promise myself that this year will be more on buying things from the thrift store and less or if possible no mall or online purchases, unless it's needed. I wish you guys could come with me, but I guess I'll have to show you a rummage sale haul after.
To prove you that it's true. This was last year on April 2011. Have a great almost weekend, everyone! Keep safe!