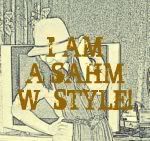 My SAHM Style Friday
It's when you love something that you want to wear it or use it a lot and that's the case with this vintage skirt and flat sandals. I mean this skirt is just fun, I love the yacht prints on it, plus it has two pockets on the sides. Awesome! Like I said I thrifted this
skirt
last year, but never got to wear it right away since I was pregnant and I am glad I fit in it after giving birth. We went out of town the other day and this is what I wore. It was one beautiful weather perfect for a fun skirt like this and just a light sweater that I got from Target. As you know (or not) I am a mom of two and I live in a small town, so I don't see myself wearing high heels or stilettos while running around with my kids, so I have to be in comfortable flats, something that suits the small town lifestyle, and be ready to run any time I have to chase my boy. And these shoes are yellow, which is more awesome! It's my fave color lately. I sure felt comfortable yet pleasant looking mama while out and about in such a beautiful day. I even took my kids to the park that day in this outfit and got lost while driving around a new town. I could not find their park at first, good thing it wasn't too busy of a traffic, so I just drove around and took my time. And because I was wearing something fun and comfy that day, I kept my cool while driving around lost looking for the park, so my boy can play and use up all of his energy and my little girl can get out of the vehicle for awhile and see some new sights. Ahhhh.... everybody's happy!
Sweater: Target ?
Vintage skirt: a dollar a bag
Sandals: from a friend $25
Have an awesome Friday!!!