"These are good. These are way too good! These are way too delicious! Why did you have to get these? I can't stop eating them." These were the words I heard from my husband while indulging in some Chocolate Covered Cocoa Beans that we received from Crio Brü. And yes he is right! They are INDULGENT! AND, along with the chocolate covered cocoa beans, we also got some Brewed Cocoa Beans for us to sample. But first, let's get to know a little bit about Crio Brü.
About Crio Brü
Crio Brü is brewed drink made from 100% cacao beans (also known as cocoa beans), roasted to perfection. Named after the most prized of cacao beans, the Criollo, Crio Brü will astound your taste buds with its complex chocolaty flavors and subtle aromas which come right from the cacao bean itself! It is 100% natural and 100% pure.
Crio Brü is the ultimate super food. It is low in calories and contains no sugar, no fat, no dairy, no sodium, no cholesterol and practically no caffeine, yet is extremely high in antioxidants, theobromine and a host of other vitamins and minerals.
Crio Brü is both a new drink and an ancient one. Ka'kao was an everyday drink of the kings and peoples of the great Incas, Mayans, Olmec and Aztecs for hundreds of years, but was changed when the Old World met the New. The incredible health properties of cacao are currently lost in the process of making modern chocolate, but with Crio Brü, they are preserved.
Price: $10.97
SKU: CB-CB-8
Weight: 0.50 LBS
Rating: ( 25 product reviews )
Shipping: Calculated at checkout
Size:
4 Ounce
8 Ounce
1 Pound
Product Description:
Crio Beans™. Amazingly Delicious. Exquisitely Complex. Remarkably Satisfying.
Enjoy these delectable chocolate covered cocoa beans which deliver sky-high antioxidants and even more concentrated health-promoting benefits than dark chocolate. The unforgettable flavor in each Crio Bean contains a delicate fruity body with deep chocolate notes. Taste the origin of chocolate.
Our Review:
- We are crazy about these chocolate covered cocoa beans. The combination of chocolate and the bitterness of the cocoa bean (the good kind of bitterness) goes so well. The cocoa bean inside is easy to munch and I really do enjoy the texture of the cocoa beans. The chocolate that covers the bean has the right sweetness and what a treat! They are perfect treats for traveling because they come in a resealable bag. I just wish we had more of these though, because they are all gone. They are that good taste wise and not to mention they are filled with antioxidants, which are good for your body.
Price: $14.97
SKU: CB-MC-12
Weight: 0.80 LBS
Rating: ( 31 product reviews )
Shipping: Calculated at checkout
Size:
12 oz.
1.5 lb.
5 lb.
Product Description:
Maracaibo™. With flavor notes of caramel and cherry found naturally in premium cocoa beans from Venezuela. Flowing serenely into the Caribbean Sea, Lake Maracaibo is encircled by the rarest, heritage cocoa trees from which Venezuelan growers produce the world's most sought after Criollo and Carenero cocoa beans prized for their superb, rich flavors. This Crio Brü is a luxurious, full-bodied brewed cocoa with sweet flavor notes of vanilla and cherry and a caramelized nutty finish.
Making Crio Brü is easy, whether in a coffee maker or French Press.
Maracaibo
[Mair-a-kai-bo]
Price: $11.97
SKU: CB-MYA
Weight: 0.80 LBS
Rating: ( 30 product reviews )
Shipping: Calculated at checkout
Size:
11 oz.
1.3 lb.
4.5 lb.
Product Description:
Maya™
Fiery cayenne pepper with warm vibrant cinnamon and soothing ground vanilla beans blended with premium, chocolaty cocoa grounds. For thousands of years, the Maya and Aztecs drank an unsweetened health elixir called xocoatl made from roasted cocoa and hot peppers. Experience the changing and harmonizing flavors in this exquisite and energizing blend of premium ground cocoa beans, cayenne pepper, cinnamon and vanilla beans.
Making Crio Brü is easy, whether in a coffee maker or French Press.
Price: $11.97
SKU: CB-CVL-12
Weight: 0.80 LBS
Rating: ( 41 product reviews )
Shipping: Calculated at checkout
Size:
12 oz.
1.5 lb.
5 lb.
Product Description:
Cavalla™ with flavor notes of coconut and cinnamon found naturally in premium cocoa beans from Ivory Coast. Winding along its western front, the Cavalla River gives shape to the exotic Ivory Coast. The surrounding agricultural area is dotted with small, family-owned farms that produce the very best African cacao. The dark, earthy-toned beans are carefully hand picked and dried naturally by the sun to enhance the full-bodied chocolate flavor, which hints of dark spice, coconut and cinnamon. These incredible natural flavors come to life when you brew a cup of Cavalla, made from 100% pure, perfectly roasted cocoa beans.
Cavalla
[Kuh-val-uh]
Making Crio Brü is easy, whether in a coffee maker or French Press. And Cavalla is incredibly delicious, especially when you add a little creamer and cinnamon.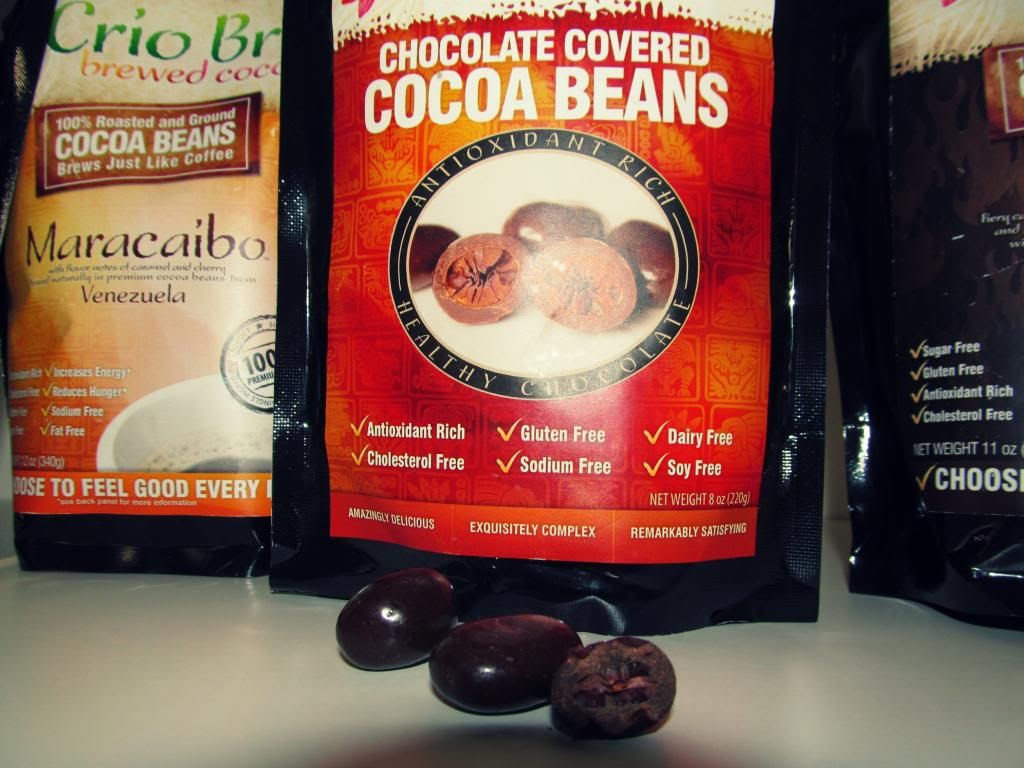 If you have noticed the dots of oil floating on top of the drink, don't worry. Cocoa beans contain natural essential oils and it says those are healthy kind of fats just like the ones you would find in Avocado, Olive Oil and Nuts.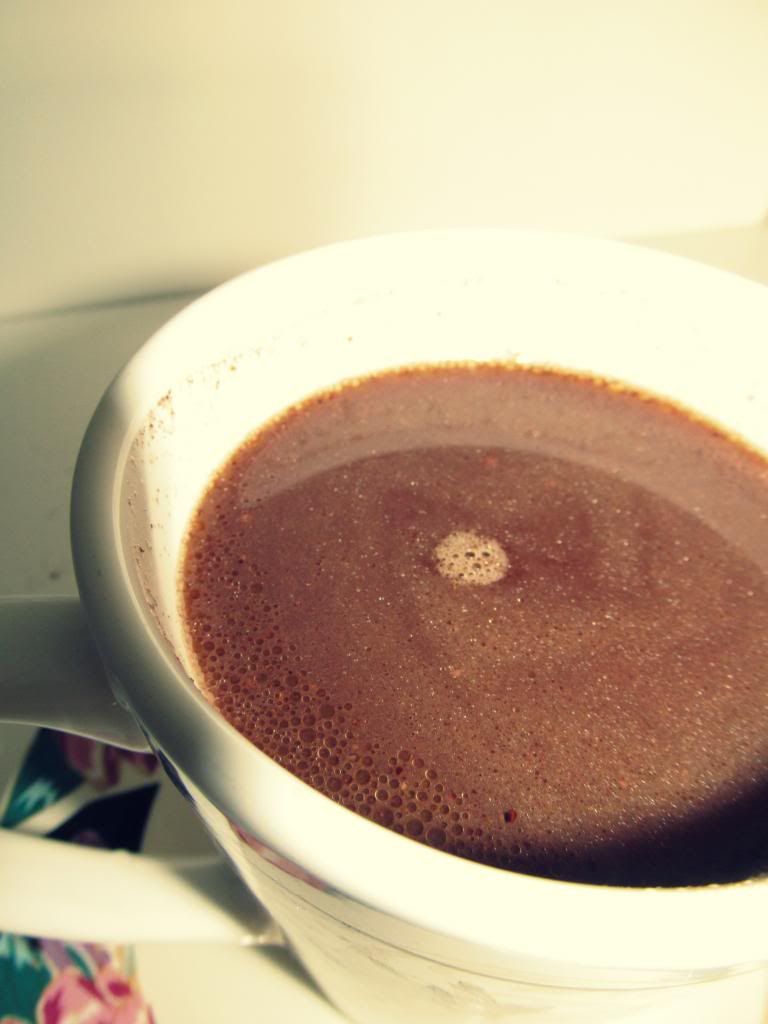 Now, let's say you have no French Press or a Gold Tone Coffee Filter at home and you wonder how to brew your own cocoa beans without it? Well, I want to share with you my way of doing it, which is the Filipino way of brewing cocoa beans. I basically grew up drinking "sikwati (brewed cocoa beans)" and I know how to make it without any of those fancy things. I do however use my coffee grinder to grind up my already ground up beans into a really fine texture. But you don't need to do that if you don't have a coffee grinder either. It still works!
- First, measure your water. According to the package, in every 6 ounces of water is equal to 2 tablespoons of ground cocoa beans. The way I do it is I would measure 16 ounces of water per 4 tablespoons of cocoa beans and that would make me about 2 cups of brewed cocoa beans.
- Once you measure your water and your cocoa beans, sit it on top of the stove and let it boil, simply make sure to stir it frequently. Don't leave it sitting on top of the stove on its own. As you can see on the photo below that your drink would look like the first one to the left, still thick and you can see a lot of the ground up beans. Don't freak out, it is alright. Just keep stirring to really combine everything and some of the ground up beans will melt and some won't, which explains while it is gritty.
- Once it starts to boil, turn the heat to low and continue stirring until your drink is a lot smoother, then turn the oven off. Now this drink is gritty, but you can use a fine strainer to strain some of the grits out. It will still be gritty, but not as bad. I am not really bothered by it because I am used to drinking this since I was a little girl. It does not affect the taste of the brewed cocoa beans at all.
- At this point, you can either add sweetener or creamer to your drink, but I prefer just adding Agave Syrup and nothing else. If I feel like adding anything else, it would be Almond milk as my creamer. You can add whatever sweetener you like according to your taste. Enjoy!
I like to have this in the morning with some homemade bread or rice for breakfast. And speaking of rice, you can also make
"Champorado (Chocolate Rice Porridge)"
with this. If you want to know how I make my own Champorado using the Crio Brü, let me know in the comment below.
And for a Filipino meal, I paired it with rice, dried fish (stinky, but yummy), and some leftover salmon, with eggs and spinach.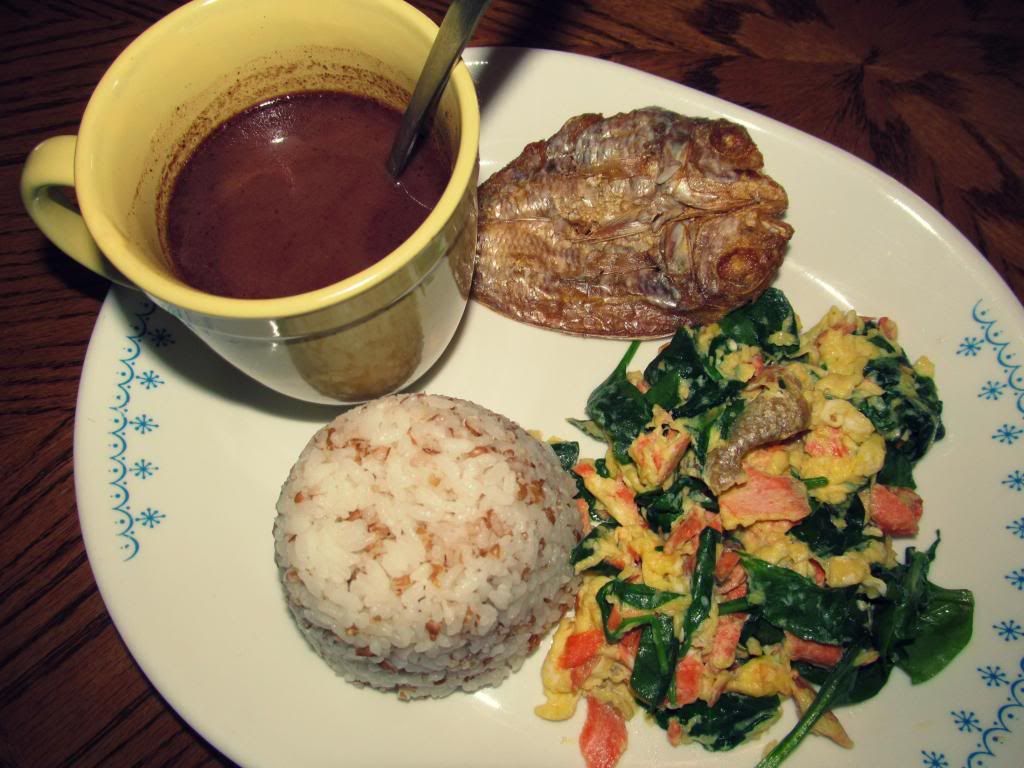 Our Review:
- The Crio Brü drink smells really good. It reminds me of waking up every morning in the Philippines before I go to school and my mom's brewing some "sikwate or tsokolate", so we can have something hot or warm to drink. Paired with some rice, sunny-side up eggs, dried fish and my breakfast was complete. Drinking a cup of this every morning makes me feel like I am back home.
- It's amazing how all these beans are the same, but yet different. The same because they are all cocoa beans, but different because they have their own hint of flavor, and even aroma. But they are all delicious! I just wish I had a way for you to try it yourself so you know exactly what I am talking about. I guess you are just going to have to buy some for yourself to really know what I am talking about.
- I have mentioned it before that I am not much of a coffee person and as much as I love drinking hot chocolate, I don't want to drink it frequently. But there are some mornings that I really want something hot or warm to drink, but not coffee or hot chocolate. And Crio Bru's Brewed Cocoa is my answer. I could have ordered some of those "tableya" (the Philippine version of hot chocolate made purely of ground cocoa beans just like Crio Brü), but it is costly if I order it online and I am far away from any asian stores. To be honest, I want to buy more of these when I finally run out. And I want more of the Cavalla this time because of all three products, Cavalla is my favorite. It is smooth and just delicious! If you prefer something with a kick, try Maya. And try Maracaibo if you want that hint of caramel and cherry in your drink.
- It does not give me the jitters that I would normally get from drinking coffee. And this is just for me, but it is filling. I am glad I received these products because these will be my only drink every morning. I can also make some ice cold drinks with this for the summer, too. Thank you, Crio Brü!
If you are interested in any of these healthier drinks to help you start off your morning, don't forget to visit Crio Bru's website today at
http://www.criobru.com/
to learn more.
Also, if you watch the show Shark Tank, Crio Brü will be featured on that show on April 25th.
And one more thing before I end this review. When my sister-in-law saw my post on Facebook about Crio Brü, she went and ordered online and this is what she told me:
*** To answer my sister-in-law's question: . I haven't stored them in the refrigerator at all and because of its resealable bag, it remains fresh. And if only we have our garden here, I would have saved up all the grounds and use it as fertilizer.
Question: If
this was my money, was it worth the buy?
Answer: Absolutely
!
For more update:
LIKE Crio Brü
on
Facebook:
https://www.facebook.com/CrioBru?v=app_4949752878
Follow on Twitter:
https://twitter.com/criobru
Follow On Pinterest:
http://www.pinterest.com/crioinc/