Christmas came early for my kids because they both got some new fun toys to play with. But today I am going to talk about this cute little Cozy Cottage first that we got for my little girl. It is from Calico Critters and it instantly became her new favorite toy of the day. She kind of forgot about the doll house that I made her out of a shoe box for a while. Remember that?
Anyway, the Calico Critters company is a company that creates cute and fun toys for kids. It encourages them to use their imagination and enjoy oodles of playtime.
The Calico Critters company has an amazing collection of toys from Houses & Environments, Shops & Restaurants, Families, School Series, Baby Play Series, to Gift Sets. Just to name a few. It is a kid's dream toy collection. If you haven't visited their site yet, you have to check it out to see it for yourself. And for a sneak peek, watch my video below to see what the Cozy Cottage looks like.
Now let us move on to reviewing this baby because after that, we have a (drum roll please), a GIVEAWAY! I know! I am so excited for you and your little darling. Guarantee your little one will absolutely love this toy. Who wouldn't? There is something about cute little toy houses and cute little critters that little ones can't get enough off. But first, let's do the review, shall we?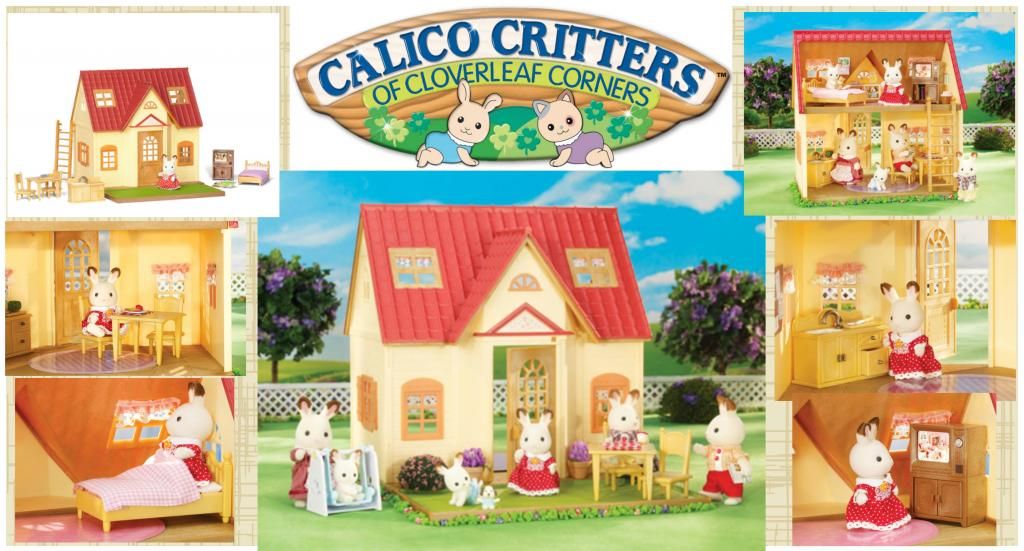 Price:
Item is in stock and ready to ship
USD$ 49.95
Product Description:
Perfect way to start a Calico Critter collection! This cozy cottage comes fully assembled and ready to play with everything you need for hours of pretend play fun. Includes moveable, reversible floor to use as a front yard, expand the 1st floor, or create a 2 story house! Over 15 furniture pieces & accessories including Bell Hopscotch Rabbit, bed with matching sheets, square table with chairs, kitchen counter with sink & 3 storage areas, cutting board with chopping ""knife"", and movable ladder for easy access to each floor. House measures 10.5"" x 8"" x 10.75"". The Hopscotch Rabbit Family lives in this home. Some critters & accessories sold separately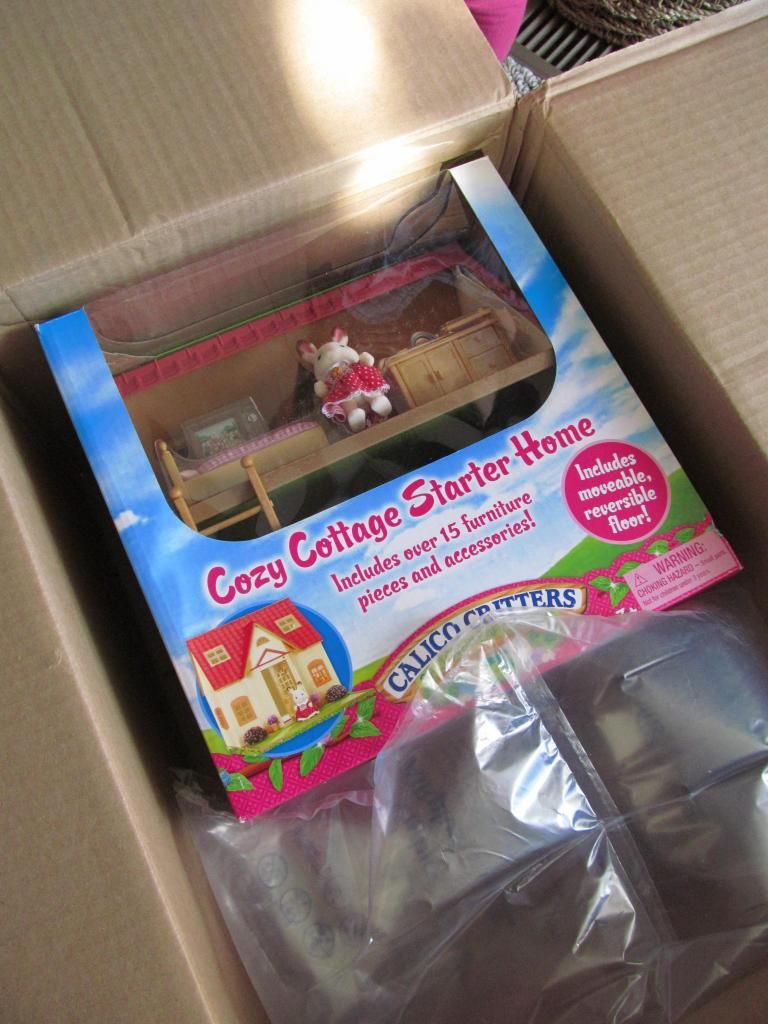 What Do We Like About This Product?
- When it came in the mail, my little girl couldn't be more excited. I was excited! Just look at how beautifully packed this toy is in the box. Wonderful packaging! It was easy to get the toy out of the box, no need to get a knife of a pair of scissors. And we love that there was no assembly needed, which was good because we were eager to play with it. I mean, my little girl was. No sweat!
- The box says it is for 3+, but do be careful because it has a few items that are small enough for the little ones to stick in their mouth and could possibly choke. It came with a small cutting board with a tiny knife that can be a choking hazard.
- When I asked them if I could do a product review on one of their products, they were quick to ship it to me. I bet if you were to order toys from their website that they too would ship it to you faster.
- If you ask about the quality of the toy, I am really impressed. It is sturdy enough that can withstand hours and hours of play time. It is well-made, and things do not come off easily or destroy easily. When I look at it, it kind of reminds me of those vintage farm house or barn house toys. You know what I mean? It has that look and feel to it.
- It is nice that my little girl can play with the toy house and customize it the ways she wants it. She can either add the second level of the house or remove the top floor easily and it can be just one level house. She can also remove the ladder or move it from side to side, however she wants it.
- This cozy cottage toy doesn't come with those stickers to decorate the house like some other toy houses, which I kind of like it that way. The attention to details on the cottage like the roof, the windows, door, the wood looking floor, and all the little knickknacks that come with it are wonderful. And that little Calico Critters'
Bell Hopscotch Rabbit
is just the cutest thing ever! This is a toy that is definitely built for the little ones so they can have hours and hours of play time. What a great way to keep your kids occupied and happy! Don't you agree? I would say that this would make a great gift for this coming Christmas. Or for birthdays. Or a "Just Because" kind of gift for the little ones.
What We Don't Like About The Product?
- I don't really have anything bad to say about the toys (we are easy to please) because it I see my little girl having so much fun with it, that it makes me happy. That's all I can say.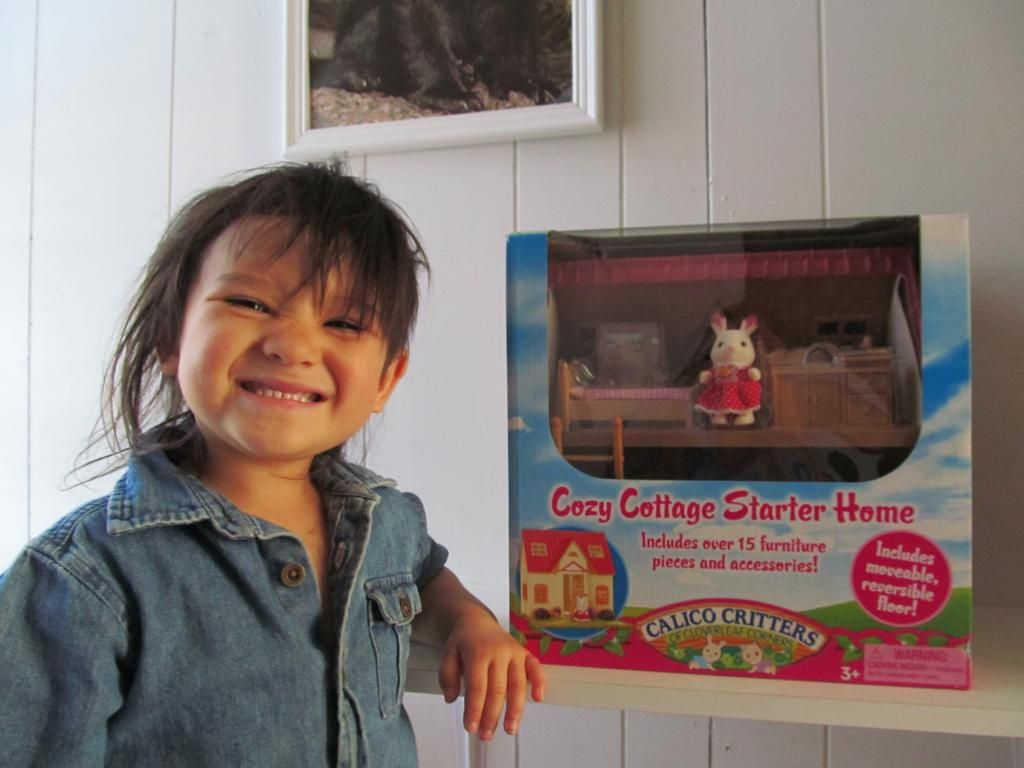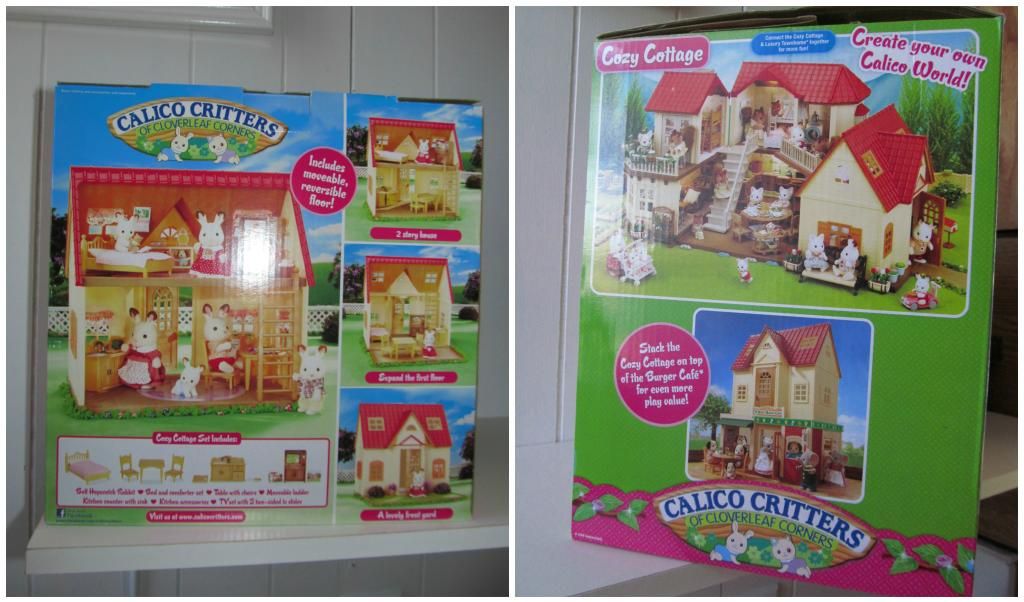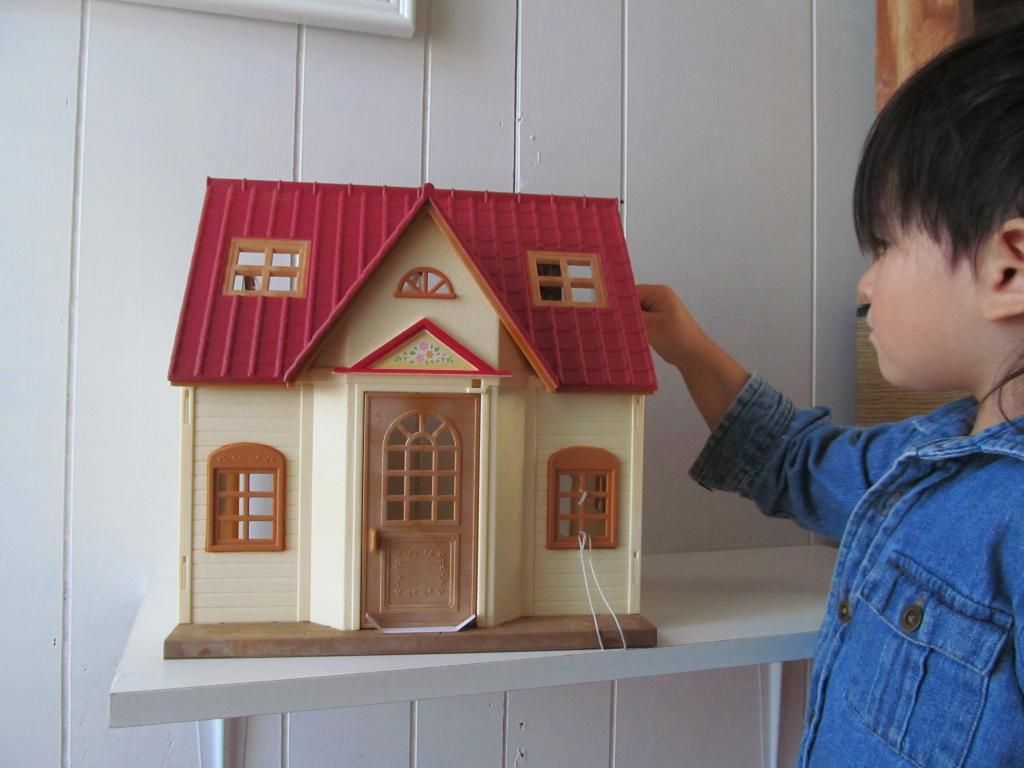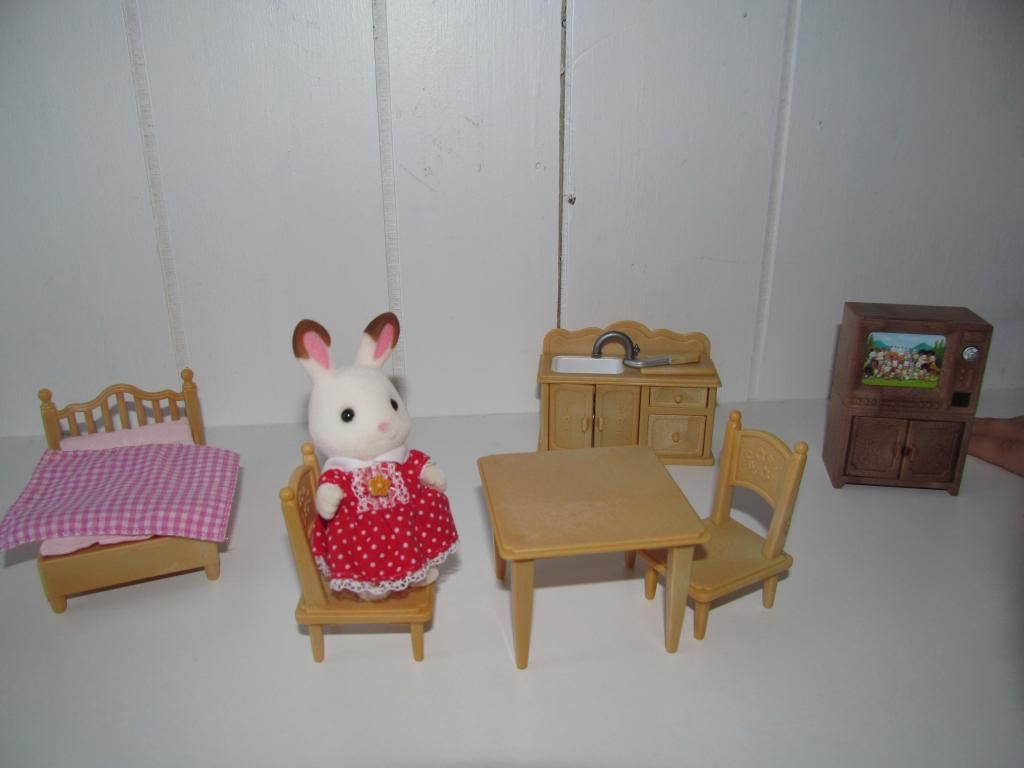 These are the pieces that the Cozy Cottage came in with.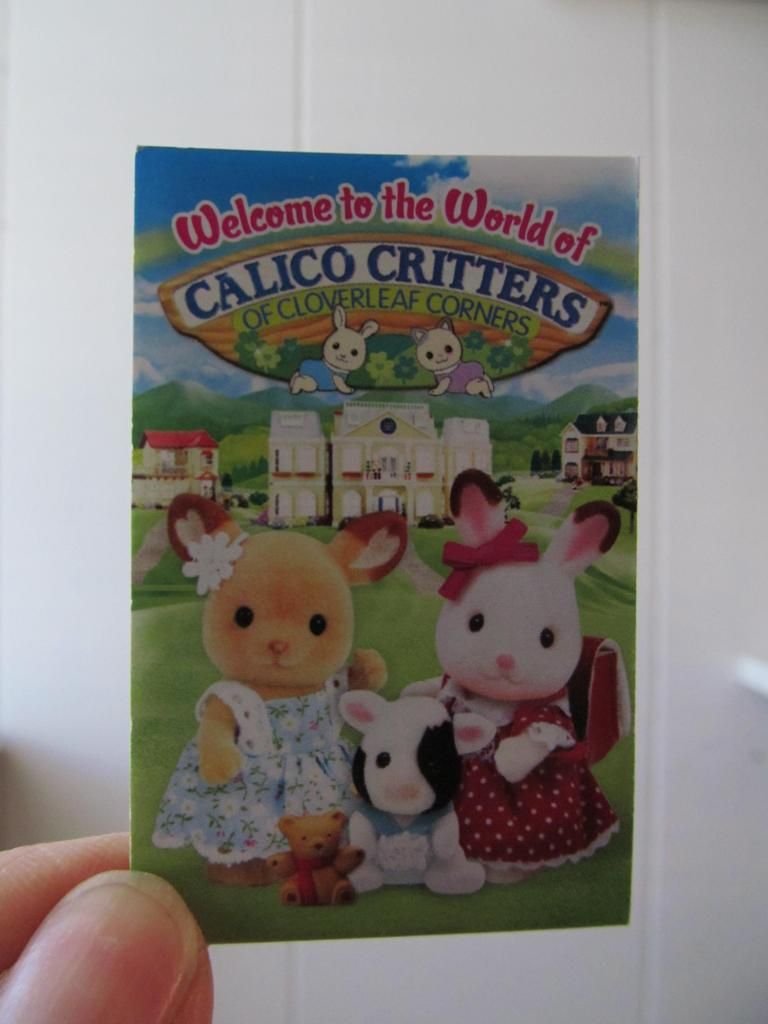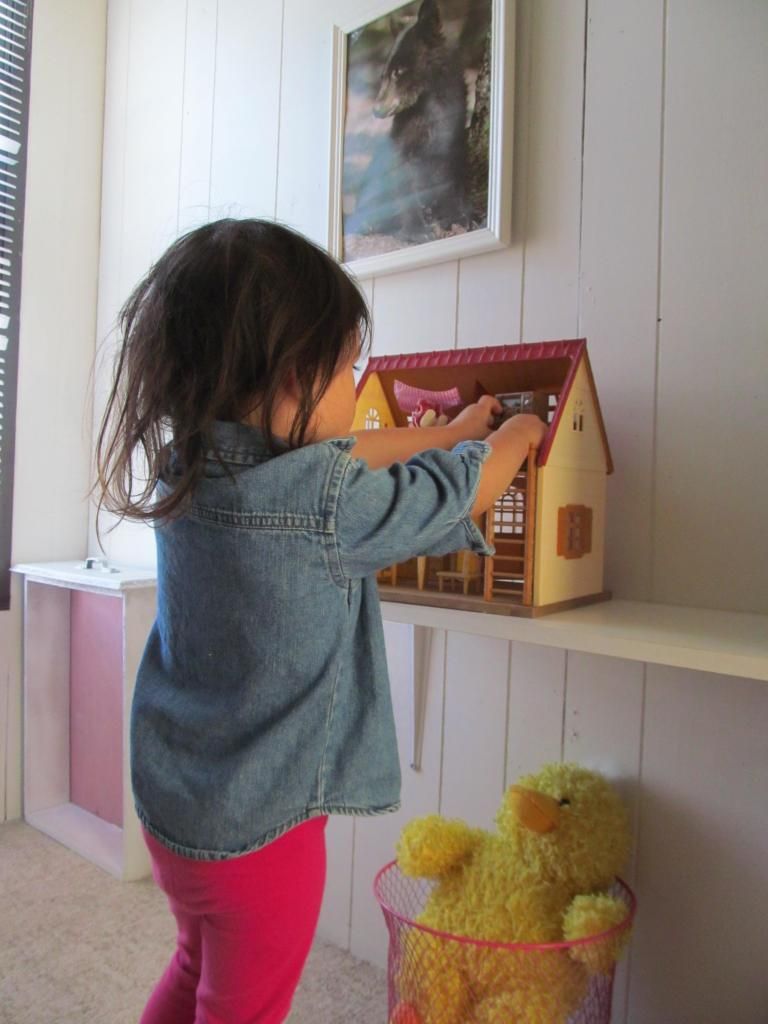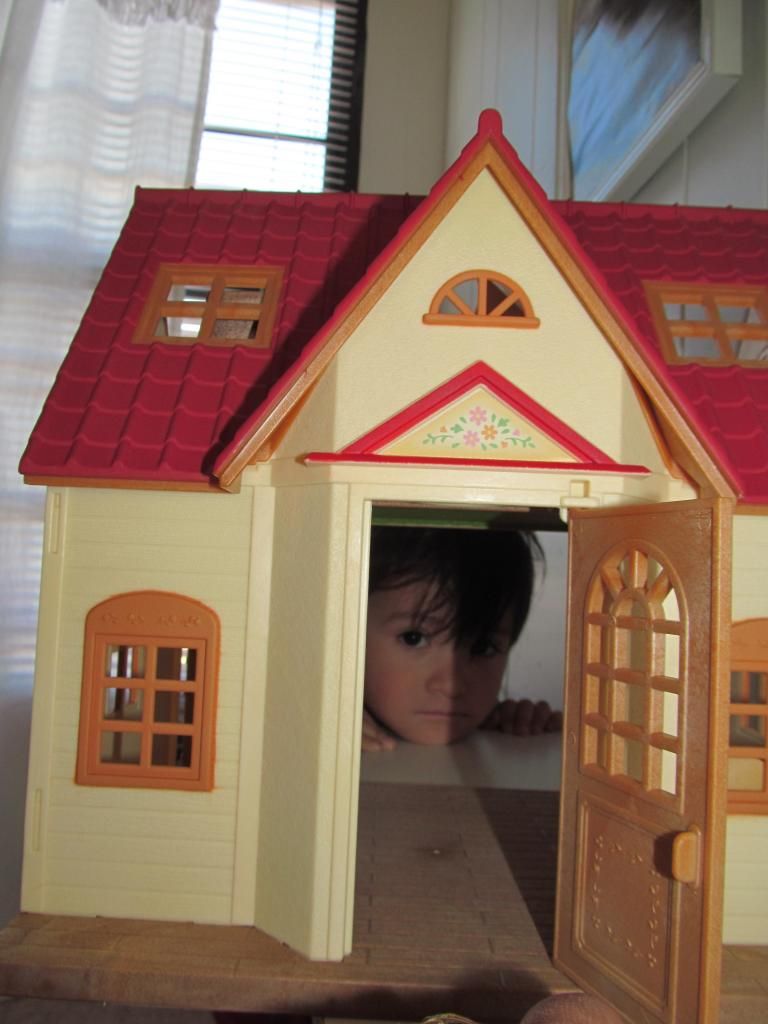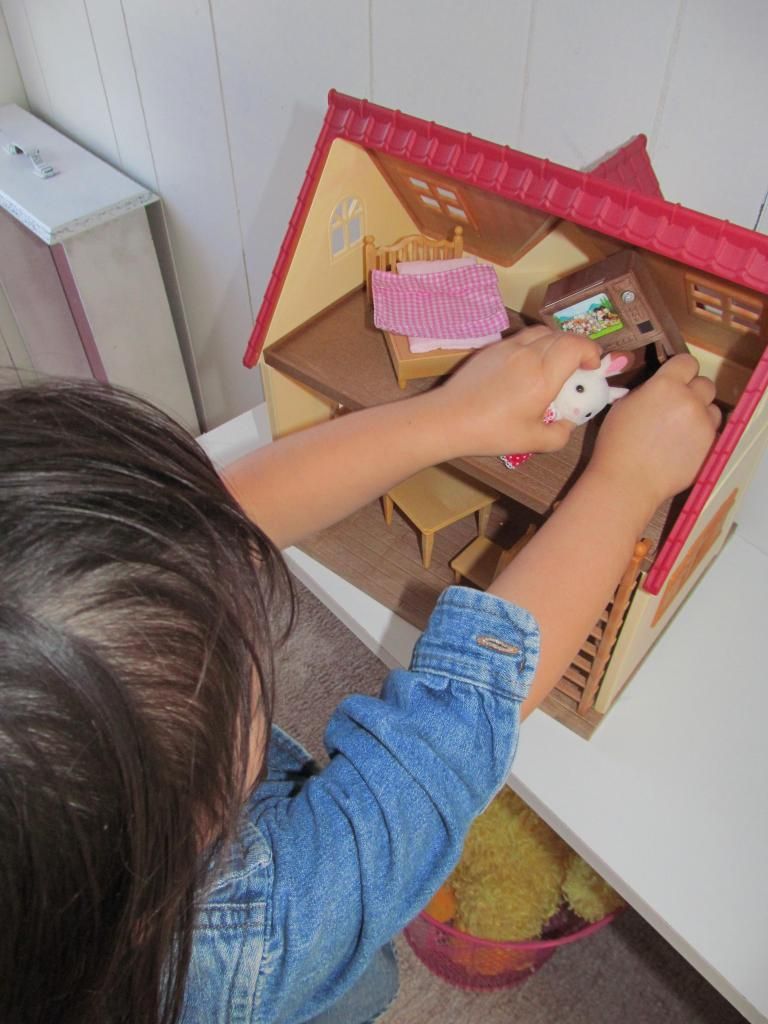 If It Was My Money Spent To Buy The Toy, Was It Worth The Money?
- Absolutely! No doubt about it.
And now for the fun part, the GIVEAWAY!!!
(This is open to US residents only.)
Thank you to the awesome people at the Calico Critters company for sponsoring this giveaway. One lucky you get to win One (1) of the Calico Critter Families, which by the way, they are so adorable! This might just be the start of your very own Calico Critters collection. All you have to do is enter the Rafflecopter Giveaway below. Don't worry, I won't bug you with so many unnecessary entries. There are only a few easy steps to enter for your chance to win. Thank you and Good luck, everyone!!!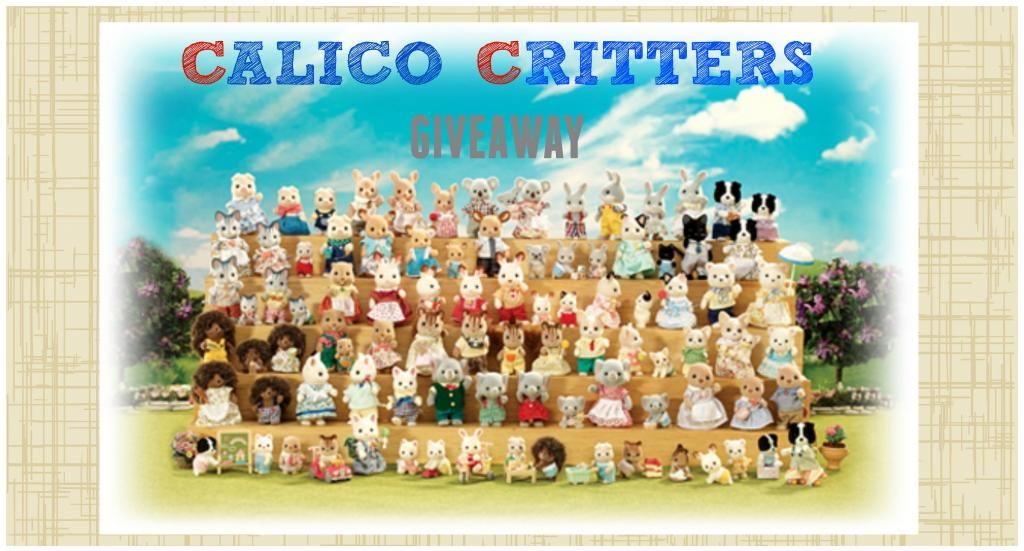 Rafflecopter Code:
http://www.rafflecopter.com/rafl/share-code/ZTU5OGU2MjA5MGQ3YTk0MjQ5NWJjZDU3Y2MzNTNlOjQw/
Oh hey! Just in case you are not up for entering the Giveaway, don't worry because I got you a code for $10 off of your purchase when you shop at Calico Critter's
website
. Just use
the code

CHETOPIAN

upon check out. You're welcome! It is that time of year now where parents are shopping early for Christmas presents, so don't forget to checkout Calico Critter's! Have a great one!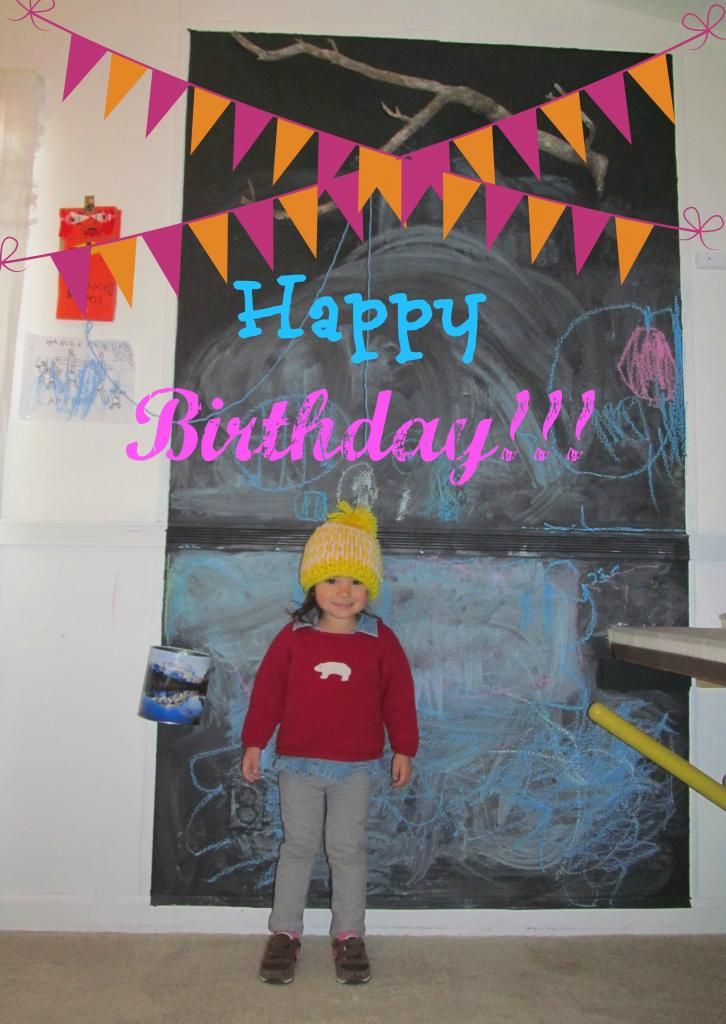 And by the way, someone is celebrating her birthday today. Yaye! She is now 3! I can't believe how time really flies by fast. We couldn't stop asking her yesterday about how old is she was because we wanted to savor the moment where she says she is two. Now she is three and growing. Thank you, Dear God! Do you want to know what she says when we asked her what she wants for her birthday? She said she wants a watermelon and pasta. That is so cute! It goes to show how she loves her food. Watermelon and pasta, it is. We are going to get her a new bike this weekend, so that is exciting. Well, that is the plan anyway. A late birthday celebration. And thank you once again Calico Critters for an early birthday present for my girl.