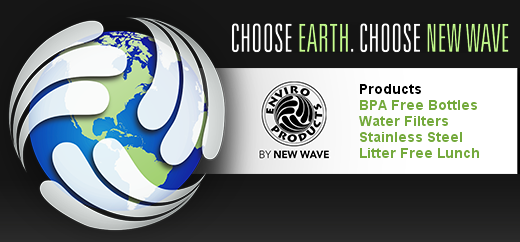 I love it when I get new products because I am always open to trying out new things that are out in the market that offers the best quality and can possibly help make life convenient. Recently, I have enjoyed using my new Double Wall Hot/Cold Insulated Stainless Steel Bottle

and

Stainless Steel Food Container with Lid that I got for a product review by New Wave Enviro.
I don't know what is up with me, but I have been into water bottles lately. I mean, I love collecting new and different types of water bottles because I know we use them a lot at home or on the road. Especially if the bottle has a unique feature, then I am very interested. This type of water bottle by
New Wave Enviro
is a double wall insulated bottle that you can use for hot or cold beverage. Read below for the product description and my own review.
Description:
This double wall hot/cold insulated stainless steel bottle holds 530 ml (17oz) of your favorite beverage and has a double level cap: a larger opening for filling/pouring and a small opening for drinking with ease. Soon to be your favorite bottle!
Keeps your hot beverages piping hot! -- "My morning coffee is still drinkable at 10am for my mid-morning pick me up."
Keeps your cold drinks ice cold! "Ahhhhhh!... my iced tea is so refreshing on a hot afternoon."
Available in 3 great tones.
2.5" diameter x 11-1/8" tall
- I love the color, the style and the design of the bottle.
- I love that it is made out of stainless steel.
- At first use, the water had a little bit of weird taste to it, but it went away after a few times of using. I figured because the stainless steel bottle was new, it just needed a good soaking and washing. As of now, it doesn't have any funky taste anymore.
- It doesn't change the taste of the water even if the water's been in the container for a long time.
- Because it is insulated, I wanted to try if the bottle really works. I was up late one night and I decided to do some test and had hot coffee in the bottle. After three to four hours, I couldn't believe my coffee was still hot. The morning after, I went to check the bottle and my coffee was lukewarm. Amazing!
- While sunbathing outside, I took the bottle with me with some ice cold water in it and within hours, the water was still cold and it didn't change the taste of the water even though it had been out in the sun. For plastic water bottle, you can't leave it outside in the heat because not only it changes the taste of the water, it is said to be bad for your health too due to the chemical leaking from the plastic. But with the New Wave Enviro Stainless Steel bottle, no worries.
- This Seriously Safe Stainless Steel Water Bottle by New Wave Enviro will also come in handy during the colder months for hot beverages. Although you could use any thermos jug to put your hot beverage of choice, but this one is not heavy or bulky, fits perfectly in the bag and can store up to 17 ounces of liquid.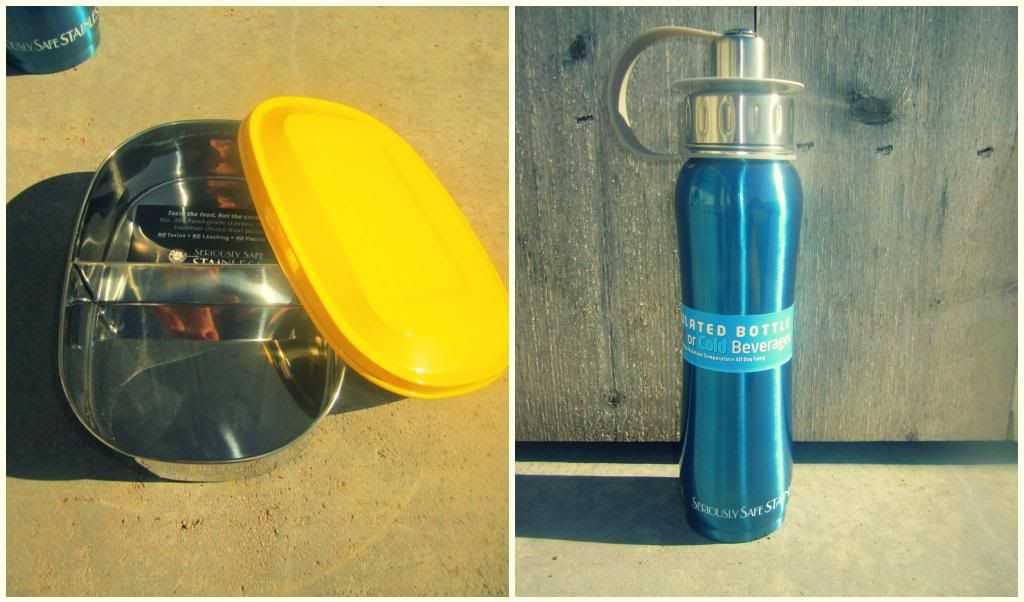 Onward to the next product that I got, the stainless steel food container with the yellow lid. I love the color! It has two compartments and I used it to store some snacks. The other day I had some
grapes, sliced apples, and one slice of Marble Rye bread cut in half and I made a turkey sandwich, which fits really well on the other side of the compartment. A perfect food container for your kids when you go on a short trip. Each kid can have their own personal sized food container. It doesn't affect the taste of the food and no funky plastic smell to deal with. The food is secure in the container while you are out and about. One safe and sturdy food container to use that can last you for a long time.

Description:
The perfect partner to the Rayon Lunch Bag Made From Bamboo. 100% 304 Food Grade Stainless Steel. A non-leaching product – no chemical, no toxins, no taste. Resistant to stains and corrosion. Durable and rugged – designed for everyday use. Go ahead and throw them in your bag – they won't open until you open them!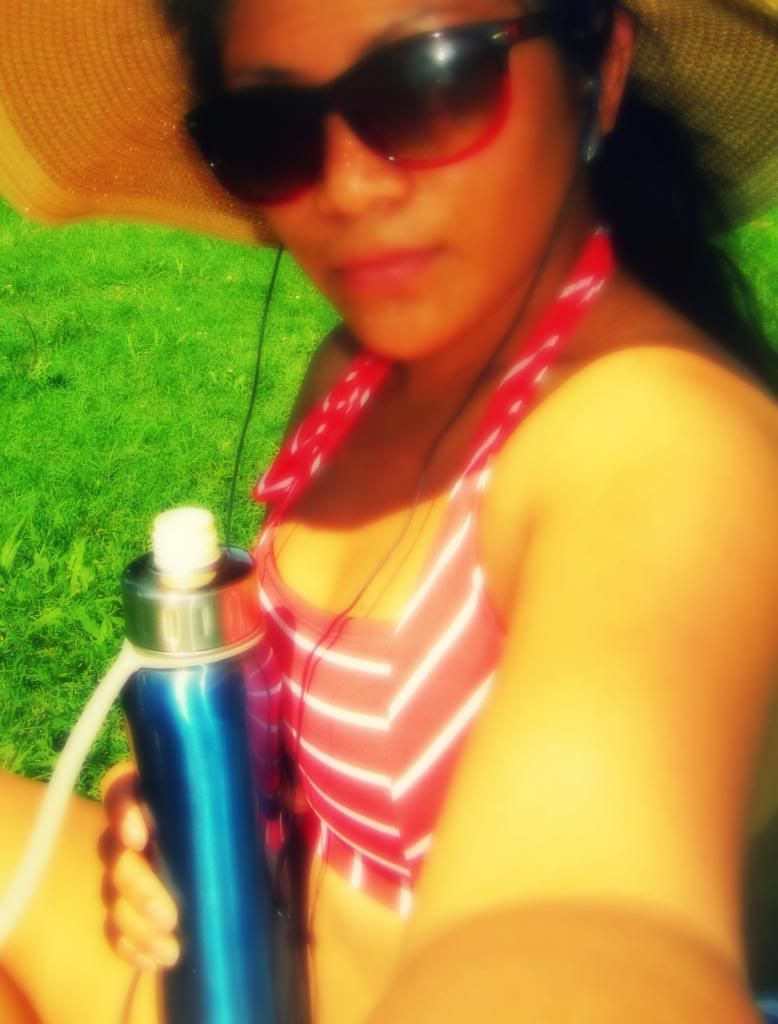 Hydration is a must so don't forget to buy yourself a bottle that is safe and durable to use just like the ones I got.
When you have your own water bottle, it also eliminates the use of plastic so while you stay hydrated, Mother-Nature will thank you as well.
Thank you,
New Wave Enviro!
Like New Wave Enviro on Facebook:
https://www.facebook.com/Newwaveenviro
Follow on Twitter:
https://twitter.com/NewWaveEnviro